Distinguished friends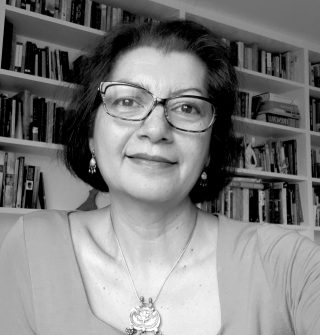 The experience of migration plays a part in the story of virtually every family in Britain, whether in the past or present. Yet most people are unaware of quite how profoundly migration has shaped our country and our daily lives. A dedicated Migration Museum is urgently needed to shed light on this rich and complex history and help to better inform current debates on immigration, citizenship and belonging.
Mukti Jain Campion
Mukti Jain Campion came to Britain from India as a young child and her outlook has been profoundly shaped by her family's experience of migration. She has had a wide-ranging and distinctive public service career as a writer, producer, reporter, trainer, and champion for greater cultural diversity in mainstream media production. She trained as a documentary maker at BBC Television before discovering the joys of radio feature making. In 1995 she founded the independent production company, Culture Wise and quickly established its reputation for original, finely crafted audio documentaries for BBC Radio 4 and BBC World Service. These have been widely-acclaimed for bringing under-represented voices into the mainstream of broadcasting through compelling story-telling. Throughout her broadcast career she has worked with people of different migrant backgrounds to explore how the movement of people, goods and ideas shape our culture, economy and identity. Examples include Radio 4 documentaries such as Chinese in Britain, The New Global Indians and The Future is Halal. She is the producer and presenter of the Migration Museum podcast series Departures on 400 years of British emigration.
In 2004 Mukti was awarded the Guardian Research Fellowship at Nuffield College, Oxford which published her landmark report Look Who's Talking Cultural Diversity, Public Service Broadcasting and the National Conversation. Over the past 25 years she has initiated and supported many national and international initiatives to improve media participation of under-represented and marginalised communities. She was invited to contribute the Council of Europe White Paper on Intercultural Dialogue, and Mediane its joint project with the EU. She has been a refugee mentor through Time Together and worked with many refugee journalists across Europe.
Mukti is on the panel of the Audio Content Fund, established by DCMS in 2019 to support the growth of public service content on commercial and community radio stations. She is also Chair of the Lenny Henry Centre for Media Diversity at Birmingham City University and was a founding member of the editorial team of Representology a new journal on media and diversity. She is currently working to establish a Migration Audio Archive at the British Library.