Distinguished friends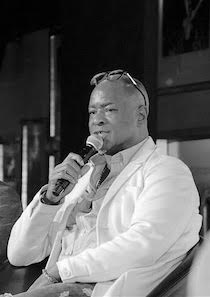 My family and I had a great time visiting the Migration Museum and firmly believe the experience is something anyone of any age would benefit from. Which is why I firmly support the Migration Museum. After all – a people with no knowledge of their history, origins and culture is like a tree without roots.
Paul Canoville
Paul Canoville knew he was destined to be a football player from the age of five. Being raised in a single-parent household, struggling in school and brushes with the law did not deter him.
What Paul did not know when he embarked on his debut appearance as Chelsea Football Club's first black player was the racist abuse he would endure from fans of his own club – abuse that would continue throughout his time there. An incident that many believed was racially charged led Paul to be transferred to Reading FC, but his career was blighted by injury and he was forced to retire in his prime. This chain of events caused a downward spiral into drug abuse which led to rehab, only for Paul to be stricken down with cancer.
It was Paul's desire to overcome his own battles and help young children that came from backgrounds similar to his own that inspired him to start the Paul Canoville Foundation – 'being the change' youngsters needed to see and rising up resiliently. Paul is an avid campaigner and spokesperson against racism and is also an ambassador of the Love Music Hate Racism campaign, an organisation set up in 2002 in response to rising levels of racism and electoral successes for the British National Party (BNP).