Distinguished friends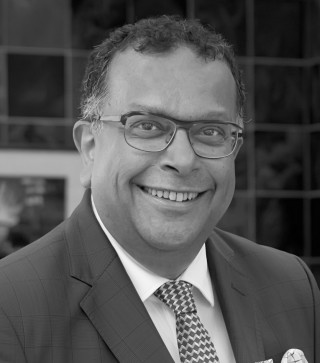 Iqbal Wahhab
Iqbal Wahhab OBE FRSA has lived in Britain for almost his whole life and in a career spanning 30 years he has built a reputation for delivering world-class excellence through his highly successful restaurant businesses, Roast and The Cinnamon Club. It was Iqbal's early experience in the media which saw him run his own hospitality PR business and his Indian food publication, Tandoori Magazine, which launched his career in the restaurant industry.
In 1999, Iqbal sold out of Tandoori Magazine and launched the multi-award winning Cinnamon Club in 2001 – a restaurant and bar aimed to change the way we view Indian dining. In 2003 he co-authored The Cinnamon Club Cookbook and in 2005 opened the highly renowned Roast, the British restaurant and bar in Borough Market.
Iqbal has won a number of major awards and accolades during his career. He was voted one of the Top 10 Restaurateurs in Britain in an Independent on Sunday survey and listed in the Caterer Power 100, GQ 100 Most Connected and The Sunday Times Maserati Top 100 business start-up mentors. He has also received an Honorary Doctorate in Business Administration from the University of East London, and an Honorary Doctorate in Science, University of West London.
Click here to read Iqbal's blog in support of the Migration Museum Project.