Distinguished friends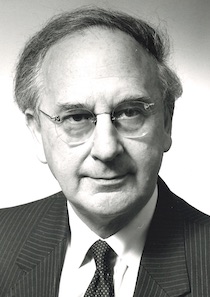 As a child of refugees who migrated from Eastern Europe to avoid the racism there, I have nothing but praise for the opportunities given to me and my family among many others in this great, free and democratic country.
Aubrey Rose
Aubrey Rose OBE, CBE, D.Univ has been a lawyer, prolific writer and author, teacher, communicator, occasional business man, sportsman and football coach – and has received countless awards, including the OBE and CBE for his participation in myriad community and diplomatic causes both in the UK and overseas. A human rights lawyer, he was the first Jewish commissioner on the Commission for Racial Equality.
Aubrey was born in 1926 to Polish Jewish immigrant parents. After winning a scholarship to Cowper Street School, he left school at 17 and went straight to work in a City legal practice, qualifying as a lawyer in 1952 and quickly opening his own small practice. He acted largely for minority communities, in particular the West Indian community, which faced much discrimination in those days. By the mid-60s, Aubrey had become legal advisor to all the Caribbean governments and, in the 70s, he helped 400 Caribbeans immigrants obtain compensation when their charter flight company collapsed. In return, he was invited to visit Barbados with his wife and young family.
Aubrey retired from the law in 1996, although he has continued to give informal advice and has given/written more than 300 talks and articles on a huge range of topics, been a found of knowledge and been involved in a wealth of community activities to the present day. His integrity, sincerity, sheer humanity and wit still shine brightly.