Distinguished friends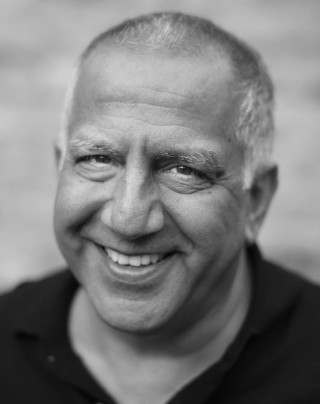 Why am I in favour of the Migration Museum Project? Simple. It matters.
Prakash Daswani
Prakash Daswani was born in India to parents who were themselves migrants – post-Partition religious refugees – before emigrating with them to London as a young child in 1961. Educated in both India and Britain at primary level and subsequently (1973–2013) at four British universities (Lancaster, City, the LSE and Oxford), he has been a cultural activist since the late 1970s, successfully using the arts and heritage to unite people through high-quality engagement with the world's cultural heritage.
With the late Robert Atkins (d.1994), Prakash devised, developed and delivered a pioneering world culture programme at London's Commonwealth Institute that ran from 1980 to 1987, subsequently setting up a charity – Cultural Co-operation (CC) – with Robert in 1987. CC's mission was, and remains, to promote intercultural understanding to help bring about positive social change where inequality, denial of opportunity and other forms of injustice persist, especially those based on racism and religious intolerance.
As CC's joint artistic director/chief executive with Robert from 1987 to 1994, and its sole head from then until 2014 (when he left CC), Prakash created and produced more than 50 world culture projects in Britain, including the widely popular summer Music Village festivals. Virtually all projects were based on free admission, with each one featuring around 75 leading artists in several art forms, hand-chosen from 80 countries, chiefly in the global South. Some 3 million people attended in all, and over 3,000 visiting artists participated, alongside invited academics, policy makers and members of CC's own network of a thousand or more creative practitioners recently settled in the UK. Projects also toured beyond London for weeks, to cities across Britain and mainland Europe.
The theme of Culture & Migration has united a number of these projects, particularly those embraced within a 7-year cultural initiative (2001–8) on Global Diasporas that Prakash originated and delivered with the CC team. To cover its costs, he secured US $500k from the Ford Foundation, and around £2 million more from other public and private sector sources in the UK and elsewhere.
In 2010, Prakash devised a new skills training programme – Strengthening Our Common Life by nurturing heritage skills (SOCL) – to enable young Britons from diverse backgrounds to enter the UK heritage sector at executive decision-making levels. He initiated a consortium, managed by CC and comprising partner heritage organisations in London and beyond, to offer traineeships in heritage management. The consortium has grown in size over the life of the project to embrace a total of 21 major heritage organisations in 7 cities. Between them, these organisations – such as the British Museum, National Trust, National Museum of the Royal Navy and Buckingham Palace – will have hosted 77 young people, each undertaking a paid and nationally accredited 12-month traineeship. To finance this nationwide 7-year programme (2011–18) Prakash secured three consecutive grants from the Heritage Lottery Fund (HLF) totalling £1.67 million and a further £600,000 in partnership funding.
Prakash has served as a committee or board member for several organisations since 1981, including Extra European Arts Committee, Community Music, Minority Arts Advisory Service, Arts Council England and London Mayor's Commission on African and Asian Heritage, for which he also co-chaired the Diversifying Audiences Committee and authored its report (2009); he was also a member of HLF's London Committee (2006–12). He wrote the keynote study for UNESCO's 1995 conference in Gimo, Sweden, on 'The Management of Cultural Pluralism in Europe' and has since presented many talks, articles and studies on interculturalism and creativity, inequality and discrimination, and cultural heritage management for, among others, the British Council, the Ford Foundation, Chatham House, European Cultural Foundation (ECF), Arts Council England, Jagellonian University (Krakow), Asia-Europe Foundation and the Museums Association.
In 2008, the ECF nominated Prakash for the inaugural Princess Margriet Award for Cultural Diversity, European Year of Intercultural Dialogue. He was awarded the MBE for services to the Arts in 2010.