Distinguished friends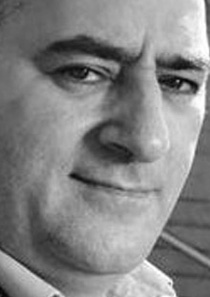 I just wanted to say how interesting your project sounds … I'd be honoured to be a part of such an important cause.
Ayub Khan-Din
As an actor, Ayub Khan-Din made his film debut in My Beautiful Laundrette (1985), but is perhaps best known for the role of Sammy in Hanif Kureishi's Sammy and Rosie Get Laid (1987) and as one of stars of the 1992 Hindi film Idiot based on Dostoyevsky's novel The Idiot. In the late 1990s, Khan-Din began writing plays. The first, East is East (1996) for the Royal Court Theatre, was nominated for a 1998 Laurence Olivier Theatre Award for Best New Comedy. The play draws heavily on Khan-Din's own childhood in Salford, where he grew up in a large family with a British Pakistani father and a white British mother.
In 1999, the film version of East is East was released, starring Om Puri as the father and Linda Bassett as the mother. Khan-Din adapted his own play, and won both a British Independent Film Award and a London Critics Circle Film Award for his screenplay, as well as being nominated for two BAFTA Awards for Best Adapted Screenplay and the Carl Foreman Award for the Most Promising Newcomer, and for a European Film Award for Best Screenwriter.
In 2021, a 25th anniversary production of East is East opened at the Birmingham Repertory Theatre and transferred to the National Theatre, London.
In 2007, his play Rafta, Rafta … opened at the National Theatre in London. It is a comic adaptation of the 1963 Bill Naughton play, All in Good Time. The play is set in the working-class English town of Bolton, and examines a story of marital difficulties within an immigrant Indian family. The play has since opened both in New York and Singapore.
West is West, a film sequel to East is East, was released in February 2011, and a film version of Rafta, Rafta is due to be released shortly. The film reverts to Naughton's original title and is about two young newly weds in the Indian community who find it hard to consummate their marriage.
Ayub Khan-Din lives near Grenada in Spain, where he continues to work on high-profile projects in London and New York.