Distinguished friends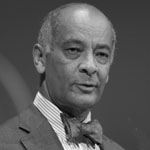 As Lord-Lieutenant I am committed to driving social inclusion in our great capital city. My strategy to achieve this focuses on the three principal dimensions of personal identity – faith, occupation and heritage. The Migration Museum Project brings all three to life in powerful ways and reminds us why we should celebrate our similarities as humans and not fear our differences.
Sir Kenneth Olisa OBE
Sir Kenneth Olisa OBE is Her Majesty's Lord-Lieutenant of Greater London and a businessman and philanthropist. His professional career has been in the IT industry and he has served on the boards of many companies both public and private in the UK, the USA and Africa. An advocate of social inclusion, he is President of homeless charity Thames Reach, and Chair of Shaw Trust, supporting the disabled and chronically unemployed to find work. He founded the Aleto Foundation, supporting future leaders from tough reality backgrounds and has served as a Governor of the Peabody Trust and as a member of IPSA (Independent Parliamentary Standards Authority) tackling the MPs' expenses scandal.  Ken and his wife endowed the Olisa Library at his alma mater – Fitzwilliam College, Cambridge.