Distinguished friends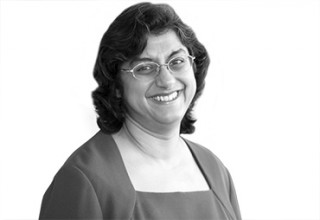 A migration museum is an outstanding concept at a time when humanity is on the move and homes have been ravaged by war and economic and environmental insecurity. Yet migration also brings opportunity. At various points in history skilled migrants have had a substantial impact on the host economy through innovation and products. These effects are beyond the direct contribution of the skilled migrants themselves. The Migration Museum is a great forum to profile these issues of our time.
Yasmin Waljee
Yasmin Waljee OBE is the International Pro Bono Director for Hogan Lovells, the international law firm. Her appointment in 1997 as a legally qualified, full time pro-bono manager was the first of its kind in Europe.
Yasmin has been key to establishing and embedding a pro-bono culture within Hogan Lovells. The objective is to deliver an outstanding pro-bono service to charities, individuals and social enterprises in need who would not otherwise afford such advice.
Yasmin is the Vice-Chair of Mosaic, the HRH Prince of Wales-led initiative to support young Muslims and their peers growing up in deprived areas and to break down the barriers and suspicions with British society. Yasmin sits on the Advisory Panel to the UK's Independent Anti-Slavery Commissioner.
In 2010 Yasmin was awarded an OBE in the HM Queen's New Year Honours list.