Distinguished friends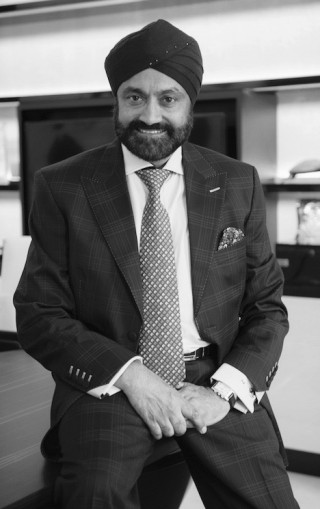 With the UK becoming a nation of such diversity, it seems apt that a project such as the Migration Museum should be in place. In years to come, our offspring will need to understand the way in which this wonderful country developed post-World War II. I look forward to seeing the success and growth of this project for the benefit of all those that come after us.
Sukhpal Singh Ahluwalia
Patron for India
Sukhpal Singh Ahluwalia was born in Uganda, his family having arrived in UK as refugees escaping the brutal regime of Idi Amin.
As a refugee, I spent time in a British refuge camp and was subjected to much racial discrimination in my early days. They were difficult times, given second-hand clothes and having to finding my way in a new country!  But thankfully times have changed and racism is not in the nature of the younger generation. The UK has treated me well and I am a better man for the experience!
Sukhpal is probably best known as the driving force behind Euro Car Parts, which he founded over 30 years ago at the age of 18, after raising £5,000 to set up a motor parts shop in Willesden, North West London.
Euro Car Parts expanded by 25% to 35% each year since and became the aftermarket-leading supplier of parts, paints and equipment for all makes of cars to garages and bodyshops. Today it has 220 branches employing over 8,000 staff throughout the UK. ECP's annual sales now exceed £900m, over four times those of its nearest competitor. Sukhpal has also developed substantial e-commerce, body shop supply and export businesses and is already half way to creating a similar-sized business in continental Europe. Along the way, many innovations in the fields of logistics, world sourcing, IT systems integration, staff motivation, marketing and CRM have supercharged this remarkable growth.
In October 2011, Sukhpal sold his Euro Car Parts business to LKQ Corporation of Chicago, a NASDAQ-listed Fortune 500 company, for nearly £300million. He has remained firmly at the helm since, as Executive Chairman of all LKQ's UK businesses and more recently accepted an invitation to join their main USA board as an executive Director.
Five years ago, Sukhpal set up a separate property company to manage the interests of his family and himself. Now called the Dominvs Group, this has expanded greatly with an investment portfolio already exceeding £400million and has divisions specialising in hotels, residential property, commercial property, private equity and wealth management. It works across the spectrum of property disciplines: acquisition, development, disposal, leasing and facilities management – delivered from a London head-office by a gifted pool of property professionals.
Sukhpal has a great talent for building and motivating strong, cohesive management teams. With an unerring focus on business priorities, married with clear strategic vision, he is able to get the very best performance from both his senior colleagues and the wider teams. Those who have met Sukhpal will testify to his warmth, humour and empathy – a true leader as well as a born entrepreneur.
Through his business, charitable and social activities, Sukhpal has amassed a huge network of personal and business contacts. He is very active in motor industry campaigns and charities and has many friends in the manufacturing, aftermarket and dealer sectors. In the wider business world, he has numerous contacts: for example, Sukhpal was on the judging panel for the PWC Private Business Awards 2014 and is a former Asian Businessman of The Year.
Unsurprisingly, Sukhpal has always been a car enthusiast with around 20 'interesting' cars in his garage at home in Hampstead.