Distinguished friends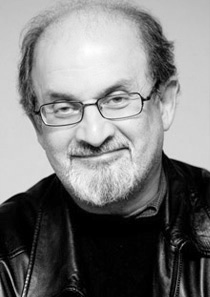 Salman Rushdie
Sir Salman Rushdie is the author of eleven novels: Grimus, Midnight's Children (which was awarded the Booker Prize in 1981), Shame, The Satanic Verses, Haroun and the Sea of Stories, The Moor's Last Sigh, The Ground Beneath Her Feet, Fury, Shalimar the Clown, The Enchantress of Florence, and Luka and the Fire of Life. He is also the author of a book of stories, East, West, and of four works of non-fiction – Imaginary Homelands, The Jaguar Smile, Step Across This Line, and Joseph Anton: A Memoir. He is the co-editor of Mirrorwork, an anthology of contemporary Indian writing, and of the 2008 Best American Short Stories anthology. He has adapted Midnight's Children for the stage. It was performed in London and New York by the Royal Shakespeare Company. In 2004, an opera based upon Haroun and the Sea of Stories was premiered by the New York City Opera at Lincoln Center.
A fellow of the British Royal Society of Literature, Salman Rushdie has received, among other honours, the Whitbread Prize for Best Novel (twice), the Writers' Guild Award, the James Tait Black Prize, the European Union's Aristeion Prize for Literature, Author of the Year Prizes in both Britain and Germany, the French Prix du Meilleur Livre Étranger, the Budapest Grand Prize for Literature, the Premio Grinzane Cavour in Italy, the Crossword Book Award in India, the Austrian State Prize for European Literature, the London International Writers' Award, the James Joyce award of University College Dublin, the St Louis Literary Prize, the Carl Sandburg Prize of the Chicago Public Library, and a US National Arts Award.
Salman Rushdie holds honorary doctorates and fellowships at six European and six American universities, is an Honorary Professor in the Humanities at MIT, and Distinguished Writer in Residence at Emory University. He has received the Freedom of the City in Mexico City, Strasbourg and El Paso, and the Edgerton Prize of the American Civil Liberties Union. He holds the rank of Commandeur in the Ordre des Arts et des Lettres – France's highest artistic honour. Between 2004 and 2006 he served as President of PEN American Center, and continues to work as chairman of the PEN World Voices International Literary Festival, which he helped to create.
In June 2007 he received a Knighthood in the Queen's Birthday Honours. In 2008 he became a member of the American Academy of Arts and Letters and was named a Library Lion of the New York Public Library. In addition, Midnight's Children was named the Best of the Booker – the best winner in the award's 40-year history – by a public vote.
His books have been translated into over forty languages.