Distinguished friends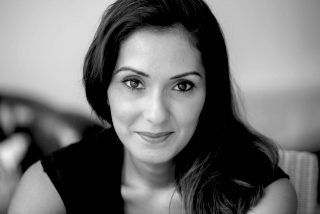 The Migration Museum is the story of who we are. It showcases the rich history of multicultural Britain in a unique and creative way, providing a valuable insight into the the world around us.
Babita Sharma
Babita Sharma is a Broadcaster, Journalist & award-winning Author.
She is the author of The Corner Shop, published by Two Roads (2019), a book that charts the social history of this unsung hero of British life. As someone who grew up above a corner shop in 1980s Britain, Babita gives a fascinating perspective of the political and economic climate during her childhood through the lens of corner shop life. The Corner Shop was awarded a Business Book Award, BBC Radio Four Book of the Week and BBC2 Between the Covers Book Club Pick.
Babita is a leading commentator on multicultural Britain, hosting TED talk: The Corner Shop: The truth about immigration and working alongside the National Trust and the Migration Museum for two major projects about corner shop life in Britain.
Her new children's book series: The Adventures of Priya Mistry will be published by Hachette Children's Group in 2024.
As a documentarian, Babita has presented several television documentaries, one of which, Booze, Beans & Bhajis: The Story of the Corner Shop, was broadcast on BBC Four, BBC News Channel and BBC World News to critical acclaim.
Her landmark series Dangerous Borders: The Story of India & Pakistan on BBC Two took her to the India/Pakistan border 70 years after partition. Here she followed in the footsteps of her family who were directly affected at the time of Partition.
Babita is an award-winning journalist and spent 10 years presenting across BBC News covering major global news events including Covid-19 pandemic, US Elections 2020 and the Black Lives Matter protests. She was awarded the Asian Achievement Award for contributions in Media, Arts and Culture.
She is passionate about diversity and mental health issues; mentoring BAME journalists and is on the Board of Trustees for United for Global Mental Health and Patron of the South Asian Heritage Trust. Alongside the FCDO & BBC Media Action, Babita has developed international media training programmes for young aspiring journalists.