Distinguished friends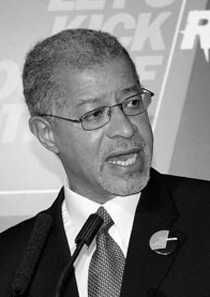 Our history tells us that most of us living in Britain today can trace our ancestral origins to other parts of the world. Thus migration, both in and out of Britain, has been a common feature of life for newcomers settling here or migrating to settle in other countries abroad. Recent migrants to Britain over the last 60 years have been the subject of much heated debate. I have no doubt that we all benefit from knowing more about each other and by learning with and from each other. That is why I am a very strong supporter of a Migration Museum, which will add to our knowledge and help us all to overcome some our fears, ignorance and prejudices.
Herman Ouseley
Lord Ouseley is an independent people management and organisation culture-change consultant. Until recently he was the president of Different Realities Partnership Ltd, a consultancy specialising in equality, diversity and people management strategies. He was previously the Executive Chairman of the Commission for Racial Equality (1993–2000). Before that he was a local government officer for some 30 years, serving as chief executive of the London Borough of Lambeth, as well as the former Inner London Education Authority, where he was also previously a director of education. He held a wide variety of different positions in other authorities during that period.
Herman Ouseley is regularly involved in undertaking organisational reviews or conducting commissioned inquiries into serious performance failures by public bodies. He is also actively involved with several charitable and voluntary organisations; he is a council member of the Institute of Race Relations, a trustee of the Manchester United Foundation and is patron of several other bodies. He is currently the chair of the Chandran Foundation, Kick It Out (the national campaign to achieve equality and inclusion in football), Policy Research Institute on Ageing and Ethnicity and FIRST (Focus Institute on Rights and Social Transformation).
Herman is a non-executive director of Focus Consultancy Ltd and a former independent adviser to the HMRC on its equality and diversity development activities. He is a member of the HMIC's Advisers Group to the Chief Inspector of Constabularies. He is also a former council member of the Football Association.
Herman has been awarded 13 honorary degrees from universities across the UK in recognition of his considerable contribution to education, policy studies, local government developments, legislative enforcement, and community-led social action. He was knighted in 1997 for services to local government and community relations in Great Britain. He was appointed as a member of the House of Lords in 2001 and sits on the cross-benches as an independent peer. He is a former president of the Local Government Association (2002–5), of which he is currently a vice-president.