Distinguished friends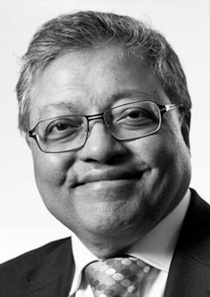 Mihir Bose
Mihir Bose is an award winning journalist and author. He writes a weekly 'Big Sports Interview' for the London Evening Standard, and also writes and broadcasts on social and historical issues as well as sport for a range of outlets including the BBC, the Financial Times and Sunday Times. His latest book, The Spirit of the Game: How Sport has Changed the Modern World, was published in January 2012.
He was the first Sports Editor at the BBC, where his job involved investigating and analysing sports stories. His major scoops included revealing the cost of the Olympics, the Premier League plans for the 39th game and Joe Calzaghe's decision to retire. He covered all BBC outlets including the flagship Ten O'Clock News, the Today programme, Five Live and the website.
Before joining the BBC, he was the chief sports news correspondent for the Daily Telegraph for 12 years where he created an innovative weekly column, 'Inside Sport'. He also wrote on the editorial pages on such subjects as race, immigration, and other social and cultural issues.
He has written for nearly all the major UK newspapers, editing the 'Inside Track' column of the Sunday Times and several business publications. He has presented programmes for radio and television, and written 22 books including the first history of Bollywood.
He has won several awards: business columnist of the year, sports news reporter of the year, sports story of the year and Silver Jubilee Literary award for his History of Indian Cricket.
He was consulted by government ministers in the run-up to London's successful bid for the 2012 Olympic Games and served on the Budd Committee which provided the basis for the new UK gambling legislation. He is a trustee of Sporting Equals, sits on the Council of the National Army Museum, and is a fellow both of the Institute of Chartered Accountants of England and Wales and the RSA.