Distinguished friends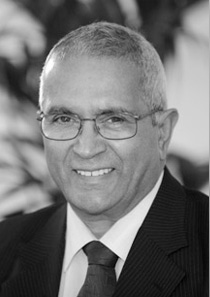 Navnit Dholakia
Lord Dholakia was appointed Baron Dholakia of Waltham Brooks and introduced to the House of Lords on 29 October 1997.
Lord Dholakia was appointed as Deputy Lieutenant for the county of West Sussex in June 1999. He is the President of Nacro, the crime reduction charity. He is a vice-president of the Mental Health Foundation and a member of its Research and Development Board. He was vice-chairman of the Policy Research Institute on Ageing and Ethnicity. He serves on the Advisory Committee on Business Appointments.
Lord Dholakia is a patron of many charitable organisations, including the Pallant House Gallery in Chichester and the Bharatiya Vidya Bhavan, the Indian cultural centre in Kensington. He has held appointments with the Commission for Racial Equality and the Police Complaints Authority. He has served on the council of Save the Children Fund and the Howard League of Penal Reform. He continues to serve on the Editorial Board of the Howard Journal.
Lord Dholakia was a member of the Ethnic Minority Advisory Committee of the Judicial Studies Board and served on Lord Carlisle's Committee on Parole Systems Review. He served as a Magistrate and also as a member of the Board of Visitors for HM Prison Lewes. He was elected President of the Liberal Democrats from 2000 to 2004. He was appointed Deputy Leader of the Liberal Democrats in the House of Lords in December 2004.
Lord Dholakia has won a number of prominent awards, including 'Asian of the Year' in November 2000. He was awarded the Pravasi Bharatiya Samman Award by the Government of India in January 2003. In 2008 he was awarded the Melvin Jones Fellowship by Lions Clubs International Foundation. Lord Dholakia was awarded an Honorary Doctor of Laws Degree by the University of Hertfordshire in 2009, and an Honorary Doctorate from the University of York and from the University of East London in 2010.
Lord Dholakia was appointed to the Privy Council in 2011.
Lord and Lady Dholakia have two daughters: Anjali, who is a lawyer, and Alene, who is a doctor of medicine.