Distinguished friends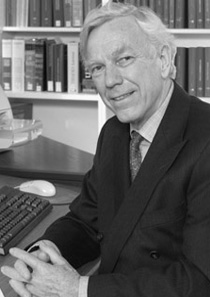 I hope that the Migration Museum will open eyes to the way in which people who were once foreigners but who then became British have enriched to this country.
Konrad Schiemann
Sir Konrad Schiemann was born in Berlin in 1937. He was orphaned during the war and came to England in 1946 where he was brought up by his uncle, who had married an English wife before the war and had spent the war here. He attended King Edward's School in Birmingham and was commissioned into the Lancashire Fusiliers, serving in Cyprus.
He holds a Master of Arts and Bachelor of Laws from Cambridge University and is an Honorary Fellow of Pembroke College, Cambridge. He practised as a barrister from 1964, became a Queen's Counsel in 1980, a High Court Judge in 1986 and a Lord Justice of Appeal in 1995. He is a bencher of the Inner Temple and was a judge of the Court of Justice of the European Union between 2004 and 2012.
He married the daughter of German and Austrian refugee parents and has one child, who was brought up in England and married an Englishman. They have two English children.