Distinguished friends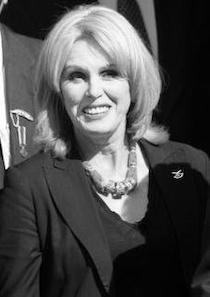 I have felt for ages that to feel truly equal in our society we must have equal knowledge available about all our varied and fascinating back histories; no family is 'older' than another. This tremendous concept for a Migration Museum sends one off into a daydream of all that a place like this might achieve, quite apart from its obvious interest as a museum. I am wholeheartedly behind the idea for this important and fascinating museum which will show beyond a doubt that we are all more closely linked than we ever dreamed.
Joanna Lumley
Born in India and having pursued a career as a model in the swinging sixties, Dame Joanna Lumley DBE FRGS is one of Britain's best-loved and most accomplished actresses. Her career has taken her from Coronation Street to Bond Girl, from chat-show host to documentary maker, and her starring roles in Sapphire and Steel, The New Avengers and as the outrageously hedonistic Patsy in Absolutely Fabulous have earned her the status of national treasure. Off stage and screen she is a tireless eco-warrior and campaigner for a variety of causes. In 2009 she famously fronted the successful Gurkha Justice Campaign, securing settlement rights for Gurkhas on the basis that those who had fought and been prepared to die for our country should have the right to live here.
She has travelled extensively, making documentaries all over the world, and has been humbled and warmed by the hospitality and friendship of all the people she has met.
Image credit: Office of Nick Clegg CC BY 3.0, https://commons.wikimedia.org/w/index.php?curid=11218465