Event listing
The 'Other' Side of the Pond – The Good Immigrant USA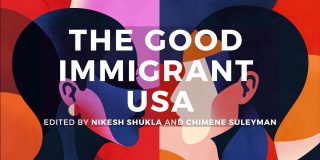 When
Mar 12, 2019 - Mar 12, 2019
Where
Migration Museum at The Workshop,
26 Lambeth High Street,
London, SE1 7AG
Summary
Tuesday 12 March 2019 | 6.30pm–8pm
Migration Museum at The Workshop
26 Lambeth High Street, London, SE1 7AG
Tickets: £7 – includes a £2 discount on book purchases  (For concessions, please email info@migrationmuseum.org)
To mark the launch of The Good Immigrant USA, join its editors Nikesh Shukla and Chimene Suleyman and contributors to the best-selling UK edition Inua Ellams and Darren Chetty as they discuss the experience of editing and contributing essays to both the US and UK editions. They will be comparing and contrasting the current state of discussions and debates around identity, culture, language and belonging on both sides of the Atlantic.
Since its publication in 2016, The Good Immigrant has been recognised as a ground-breaking collection of essays by first- and second-generation immigrants to the UK, exploring powerful personal stories of living between cultures and languages and how it feels to be 'othered' in contemporary Britain.
In the much-anticipated follow-up to the bestselling UK edition, editors Nikesh Shukla and Chimene Suleyman hand the microphone to an incredible range of writers whose humanity and right to be in the US is under attack. By turns heart-breaking and hilarious, troubling and uplifting, the essays in The Good Immigrant USA come together to create a provocative, conversation-sparking, multivocal portrait of America now.
Tickets cost £7, including a £2 discount on purchases of The Good Immigrant USA on the evening. Nikesh and Chimene will also be on hand to sign any books purchased on the evening.
Click here to book via Eventbrite (includes £0.92 Eventbrite booking fee)
About the speakers:
Chimene Suleyman is a writer from London. She has written and spoken on race and identity for such publications as the Guardian, the Independent, the Pool, the Debrief, the BBC and many more. Her debut poetry collection, Outside Looking On, was a Guardian Best Book of 2014. She is an original contributor to The Good Immigrant (UK edition, 2016, Unbound). She currently lives in New York.
Nikesh Shukla is an author and diversity activist who conceived and edited The Good Immigrant, the acclaimed collection of essays about race and immigration by 21 writers of colour. He is the editor of Rife Magazine, an online magazine for young people. He has been shortlisted for the Liberty Human Rights Arts Award and named as one of Foreign Policy's 100 Global Thinkers 2016. He is also the author of several books for teenagers and adults.
Inua Ellams is an award-winning poet, playwright and performer. Across his work, identity, displacement and destiny are recurring themes, in which he tries to mix the old with the new: traditional African storytelling with contemporary poetry.
Darren Chetty is currently completing his PhD at UCL Institute of Education, where he teaches on the BA Education Studies course. He taught in primary schools for almost 20 years. He is the author of the award-winning paper 'The Elephant in the Room: Picturebooks, Philosophy for Children and Racism'.