Football Moves People

You might recognise this graphic. 
This summer, it was seen by more than 4 million people and started national and global conversations around football and migration.
Football captured the British public's attention like never before this summer, with three home nations competing at a major men's tournament for the first time in more than 50 years and England reaching its first ever men's European Championships final. And not just any England team, but one made up of players with family roots spanning the globe – and which has stood up for progressive, anti-racist values.
#FootballMovesPeople was a social media takeover (Instagram), digital (Twitter, Facebook) and out-of-home campaign led by the Migration Museum during this summer's men's European Championships, shining a light on how the movement of people to and from the UK has shaped the beautiful game – and the people who play it.
Football Moves People – and thanks to our campaign, we're finally talking about it. 


Social media
Our story-led and real-time posts on what England's starting line-ups and results would look like without players with parents or grandparents born overseas achieved millions of organic impressions on social media.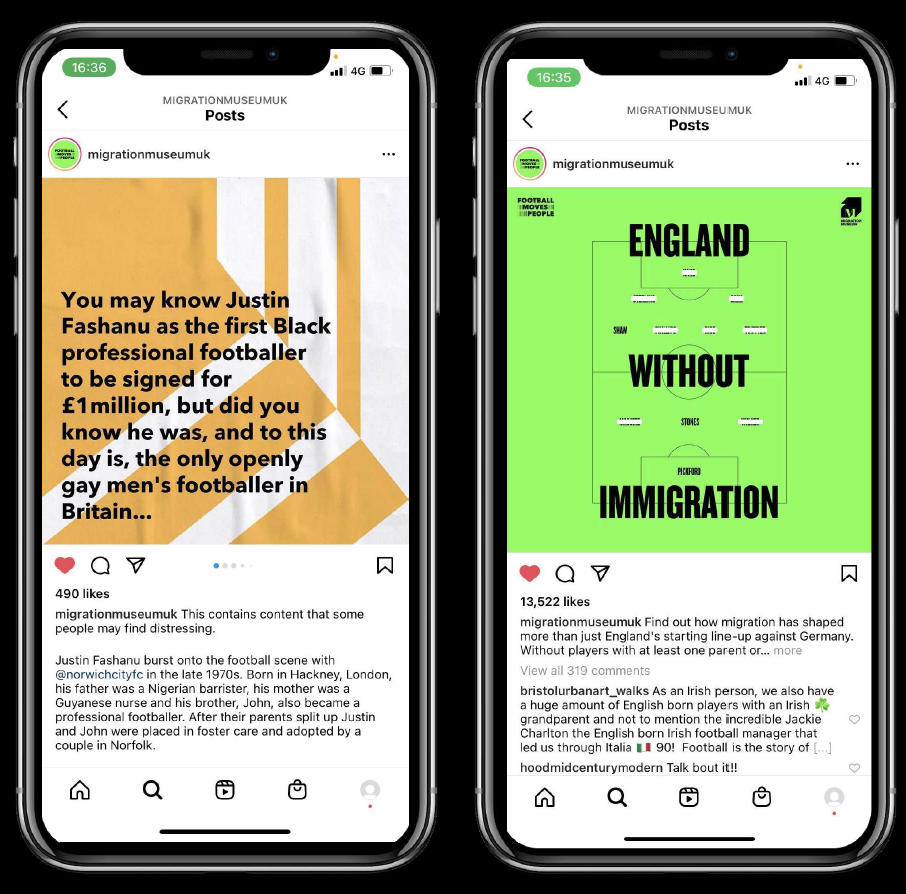 #FootballMovesPeople took over @migrationmuseumuk on Instagram. We shared a wide range of personal stories, historical trivia, and real-time and reactive graphics and posts during matches. We also posted regular campaign content on Twitter and Facebook. You can view all posts here.
With over 36k engagements, we tripled our Instagram following. Our content achieved
4 million organic impressions on Twitter and reached almost half a million people on Facebook.

We inspired major online platforms across sports, current affairs and the migration sector to create their own content, resulting in over 1 million additional impressions.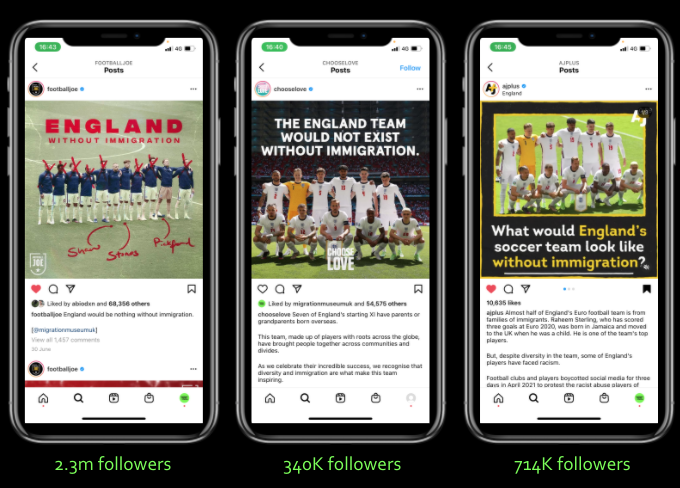 Our graphics were shared by people far and wide, including on Reddit Soccer, where conversations started by our campaign trended close to the top of the front page for days and received thousands of upvotes and comments.

Out of Home
We displayed real-time graphics showing England's Starting Line Ups without Immigration on thousands of screens in pubs, shopping centres, train stations and roadside across the UK.
"Where the Starters Started" street posters highlighting the backgrounds of key England players cropped up across London and Leeds overnight ahead of England's first match. We spotlighted the areas where player's grew up to boost engagement and a sense of personal connection to the players… and their migration stories.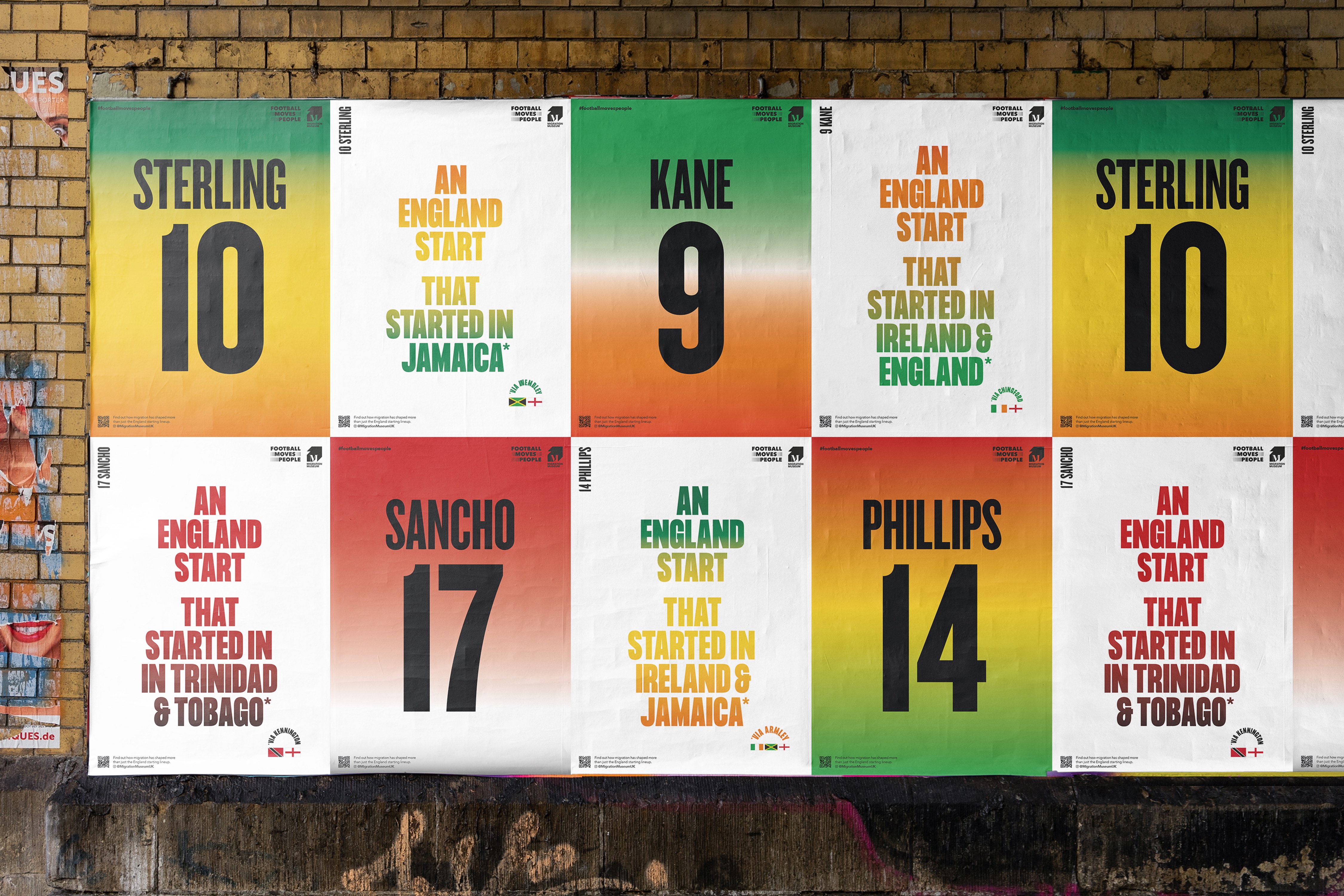 With contextual targeting, we focused on busy train stations, shopping centres and roadside locations near fan zones, as well as pubs showing the match, reaching hundreds of thousands of fans.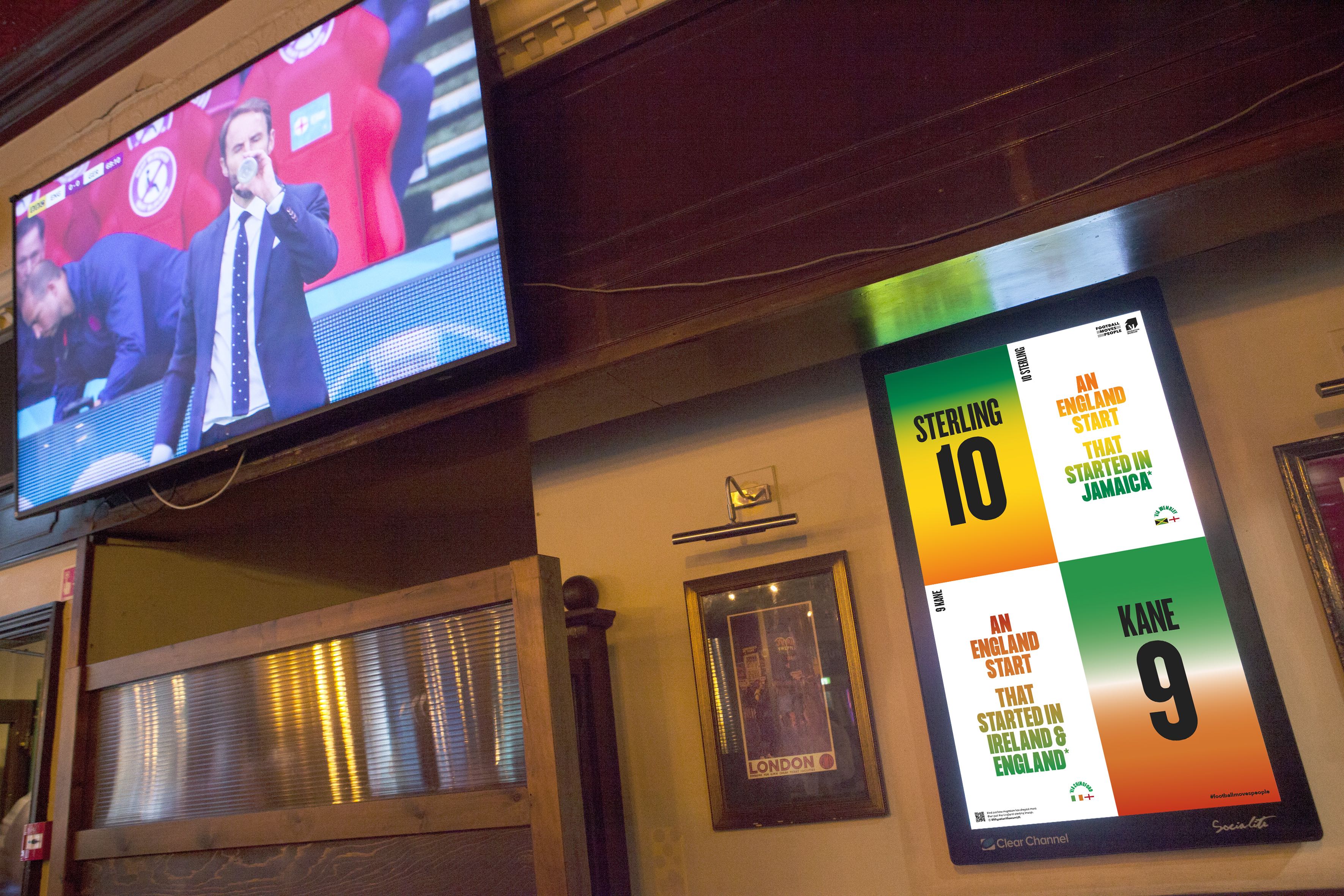 Media coverage
Our campaign was featured extensively by national and international media, including the BBC, Sky News, Sky Sports News, Metro, the Mirror, the Guardian, the i, New York Times, AP, Washington Post, NBC, MSNBC,  Forbes, The Atlantic, New Statesman, Campaign and AdWeek.
And it helped to shape a media narrative citing our campaign around the tournament focusing on the diversity of the England team and a more inclusive national identity.

South London Football Heroes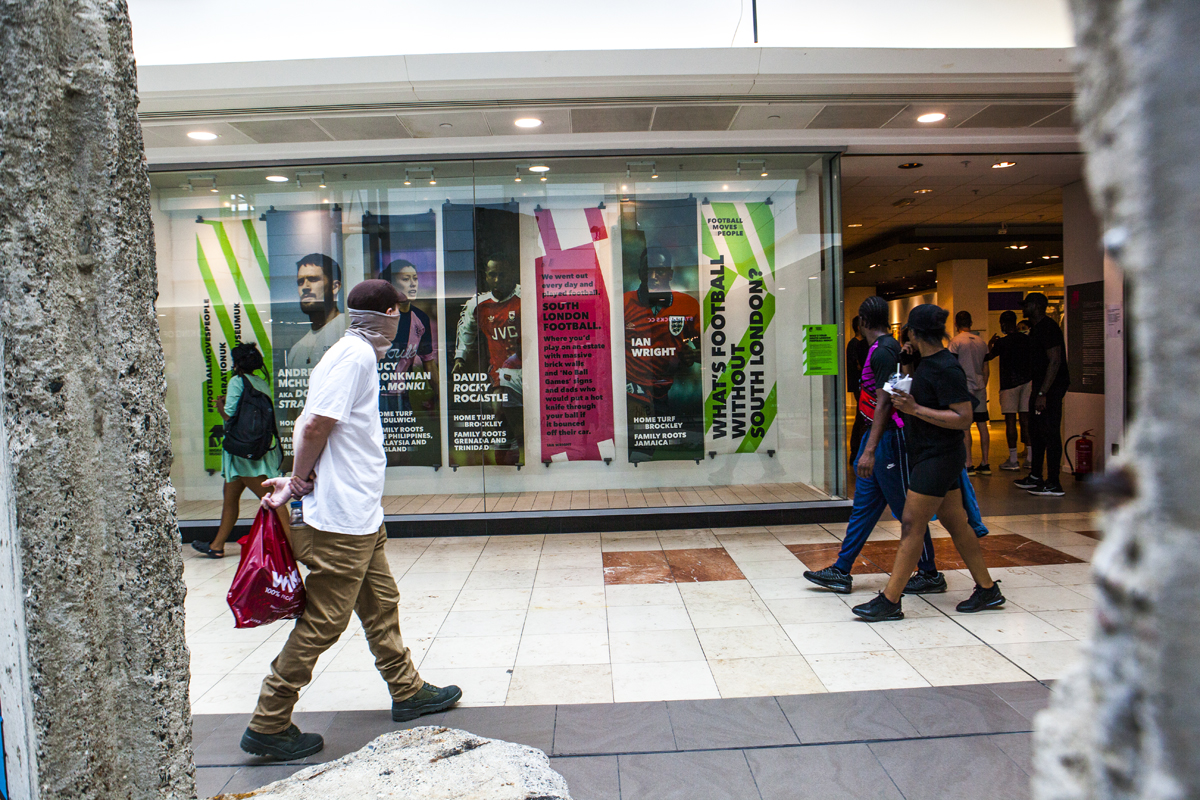 Meanwhile in the Migration Museum's current home in Lewisham Shopping Centre, we put a call out for South London Football Heroes on our social media. 
We were inundated with responses, and created a team of South London All Stars whose stories we displayed in our windows throughout the summer, offering a highly relevant hyperlocal physical manifestation of our national digital campaign.
Footballers from across south London came down to visit us and share their stories. Among them, football legend and England women's first Black captain, Mary Phillip. Grime MC and pioneer of the YouTube team SE Dons, Don Strapzy. Radio 1 DJ and Dulwich Hamlet star Lucy 'Monki' Monkman. And former Arsenal, Chelsea and England women's player Lianne Sanderson.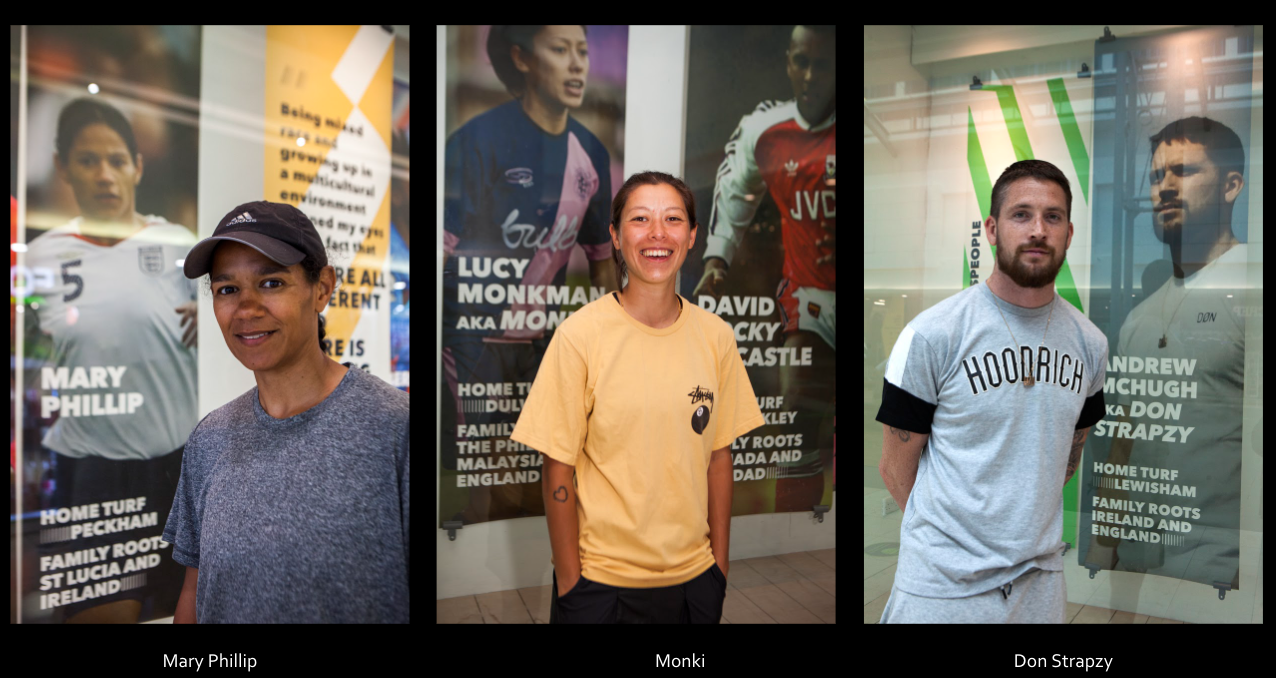 Partners
A wide range of creative and content partners contributed to the success of the campaign, including:
Wonderhood Studios, a London-based creative company who created the Where the Starters Started, Line-ups and Scorelines without Immigration  out-of-home and real-time social elements of the campaign.
Find out more
Findmypast, a leading family history website, who researched the family histories of key players at this year's Euros and shared their findings in a series of blog posts during the campaign.
Find out more

SetPlay App, a marketplace for football and gaming events, who helped us select and reach out to the South London Football Heroes in our window display.
Find out more
Eight Arms, a digital design agency who designed the look and feel of the campaign and brand kit including logo, social media hub and window display.
Find out more

Sports Interactive, makers of the best-selling Football Manager series of games, who we partnered with on a series of trivia posts inviting users to name the national team competing at the Euros based on which countries their starting XIs currently play club football in.
Find out more
Goal Click, a football photography social enterprise who we partnered with to share a selection of stories and photos from Goal Click Refugees during the campaign, spotlighting footballers across the UK with refugee backgrounds.
Find out more

… Let's Keep Talking About It

We launched Football Moves People because there has never been a more relevant time to start conversations around football and migration.
We've had an incredible response, reaching millions of people across Britain and beyond via social media and through posters on street corners, billboards and in pubs. We've been featured on TV, quoted in newspapers and live blogs and our content and message has been shared far and wide.
But as the disgusting racist abuse directed towards some England players following the Euro 2020 final once again highlighted, this is not a time to stay silent.
And there's a larger story to tell around sport and migration, which we aim to explore in the coming weeks, months and years via the hashtag #SportMovesPeople.
Help us to keep these conversations going and to put migration front and centre of our national narrative – where it belongs.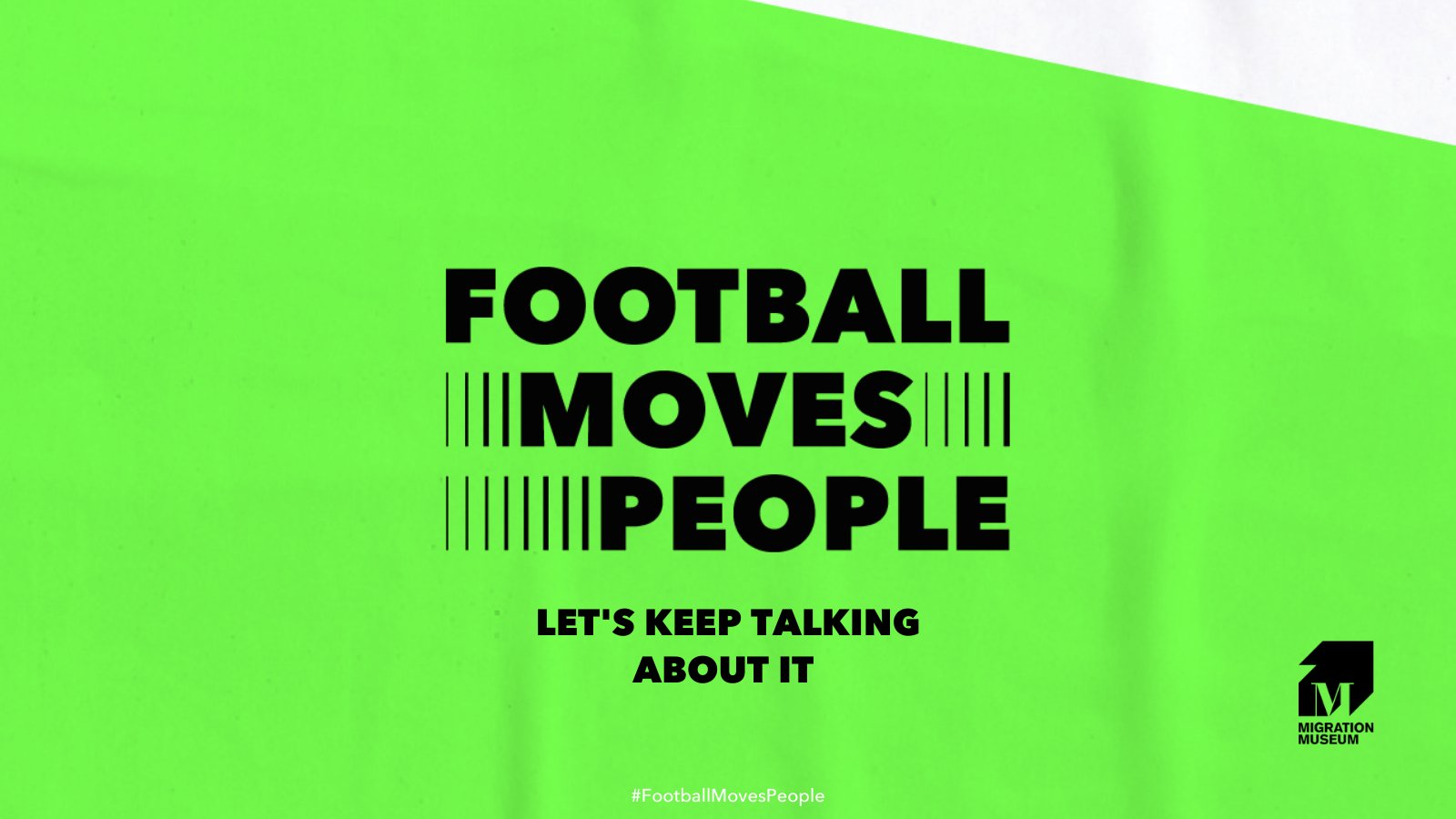 Explore the campaign
Football Moves People social media hub
South London Football Heroes
Find My Past blog series
Findmypast blog series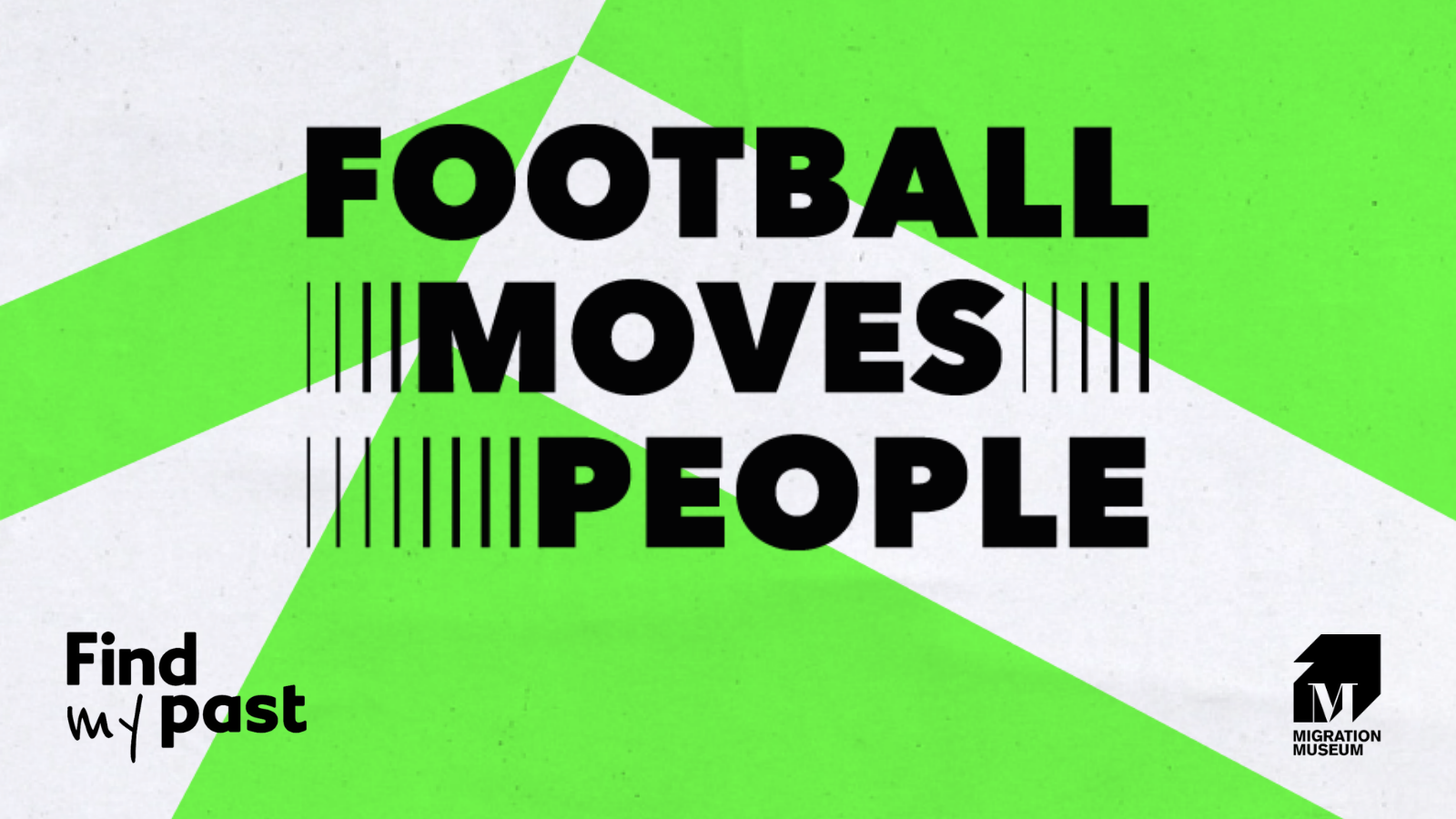 Our friends at family history website Findmypast researched the family histories of key players at this year's Euros. We shared their findings in a series of blog posts during the campaign:
1: Harry Kane's family tree reveals footballing forefathers and overseas connections
2: We've discovered everyday heroes and unusual nuptials in Gareth Bale's family tree
3: From Antigua to Australia, via Angola, Ghana and Ireland: Scottish and Welsh footballers with overseas family links
4: Trent Alexander-Arnold's family history reveals complex relationships and links beyond Liverpool
Campaign name: Tim Coleman
Social branding and design: Eight Arms and Wonderhood Studios