Room to Breathe
About the exhibition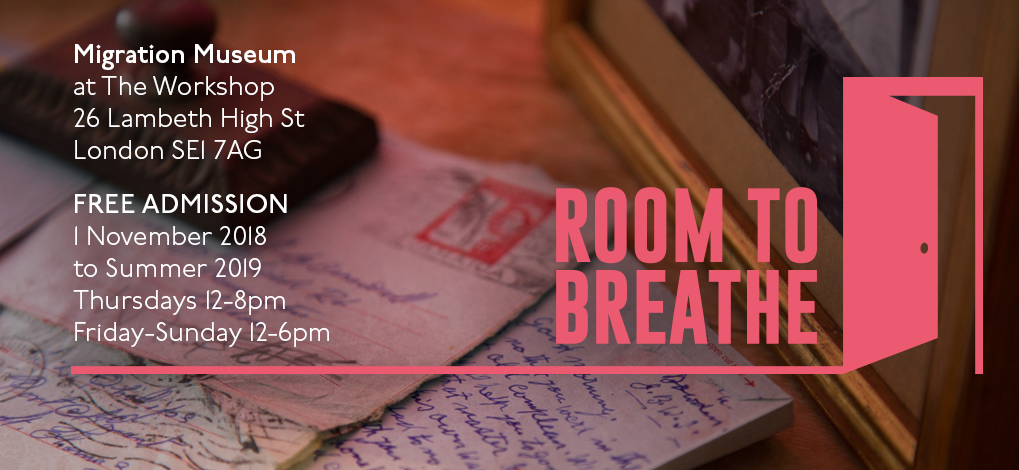 Dates: 1 November 2018–28 July 2019
Opening hours: Thursday 12pm–8pm, Friday–Sunday 12pm–6pm
Venue: Migration Museum at The Workshop, 26 Lambeth High Street, London SE1 7AG (Nearest tubes Vauxhall, Lambeth North and Westminster)
Admission: Free
Open the door, put down your suitcase, take off your coat, let the outside world fade away. This is where it begins. A room that you can start to call a home. A room to breathe.
Room to Breathe is an immersive experience inviting you to discover stories from generations of new arrivals to Britain. Journey through a series of rooms filled with personal narratives and objects that bring to life the struggles, joys, creativity and resilience of living in a new land.
Explore rooms to sleep, eat, create and meet. Make these rooms your own. Open drawers, look through cupboards, settle into an armchair. Contribute your story and make connections to the past and present.
Here's a selection of what critics have said about Room to Breathe:
'This is an ambitious immersive exhibition and it's truly fantastic ★★★★★' 
Londonist
'This is an interactive exhibition which offers an immersive journey through the arrival of an immigrant in the UK… The part of the exhibition that struck me most was the things that people bring with them: the last remnants of the home they left behind – it could be a teddy bear, or a favourite snack… It must be so difficult to know you're probably never going to go back.'
The Observer – On my radar: Bart Layton's cultural highlights
'The spaces are warm, not just places of longing and of sadness, but also of happiness, celebrating the joy to be found in the freedom to be yourself, go out dancing, meet kindred spirits half a world away, and maybe even fall in love.'
The Irish Times
'Room to Breathe is an acutely personal and immersive exhibition, drawing on the stories and objects donated to it by men and women who came to Britain over the years and made it their home… Their accounts, hidden in cupboards, or on the back of food packets in a mock-up kitchen, tell stories that are diverse, evocative, sometimes poignant, painful and funny.'
The Hindu
Artists in residence
Room to Breathe will serve as a setting for a series of residencies by migrant artists, who will be invited to use one part of the exhibition space as their studio. Each artist will host a series of workshops during their residency, and works created by all of our artists in residence will be displayed as part of a final group exhibition in summer 2019.
Schedule of artists in residence (more information and details of workshops and events during each residency to be announced soon):
Dima Karout (1 November 2018–2 December 2018)
Habib Sadat (6 December 2018–13 January 2019)
New Art Studio (17 January 2019–24 February 2019)
Ceyda Oskay (28 February 2019–31 March 2019)
Shorsh Saleh (4 April 2019–28 April 2019)
Belén L. Yáñez (2 May 2019–2 June 2019)
Borderless – final group exhibition (6 June 2019–28 July 2019)
Events and activities
We will also be staging a varied programme of exhibition-related events and activities, from cookery classes to flash performances, storytelling evenings to art and craft workshops.
Past events:
Every Sunday in November 2018 (3pm–4pm) Meet the Artist – Dima Karout
Saturday 10 November 2018 (11am–3pm) Fingerprints woodcut and linocut workshop – by Dima Karout
Wednesday 21 November 2018 (6.30pm–9pm) Migrateful – Afghan cookery class with Habib, one of our upcoming artists in residence
Saturday 24 November 2018 (11am–3pm) Connect the Dots workshop – by Dima Karout
Thursday 6 December 2018 (6pm–6.45pm and 7.30pm–8.15pm) Touching Home – a sensory theatre show by 27 degrees
Wednesday 12 December 2018 (6.30pm –9pm) Migrateful – Albanian cookery class with Deshira
Wednesday 23 January 2019 (6.30pm–9pm) Migrateful – Iranian cookery class with Elahe and Parastoo
Every Saturday from January 19 until February 23 2019 (2pm–5pm) New Art Studio drop-in workshop
Wednesday 20 February 2019 (6.30pm–9pm) Migrateful – Ethiopian vegan cookery class with Woin
Every Sunday between 3 March and 31 March 2019 (3pm–4pm) Drop-in sessions with artist-in-residence Ceyda Oskay
Saturday 23 March 2019 (2pm–5.30pm) Pillow-making workshop with Ceyda Oskay
Saturday 30 March 2019 (2pm–4pm) Family T-shirt making workshop with Ceyda Oskay
Wednesday 3 April 2019 (7pm–8pm) Touching Home – a sensory theatre show by 27 degrees
Wednesday 10 April 2019 (6.30pm–9pm) Migrateful – Nigerian cookery class with Elizabeth
Sunday 14 April 2019 (10am–12.30pm) Colours of Kindness – Meditation, voice and movement workshop
Sunday 14 April 2019 (12pm–5pm) Flying-carpet weaving workshop with Shorsh Saleh
Every Saturday between 6 April and 27 April 2019 (3pm–5pm) Drop-in sessions with artist-in-residence Shorsh Saleh
Saturday 27 April 2019 (12pm–5pm) Flying-carpet weaving workshop with Shorsh Saleh
Saturday 4 May (3pm–4pm) Free drop-in sessions with artist-in-residence Belén L. Yañez
Tuesday 7 May 2019 (6.30pm–9pm) Migrateful – Cuban cookery class with Lola
Saturday 11 May (12pm–4pm) Free drop-in sessions with artist-in-residence Belén L. Yañez
Saturday 18 May 2019 (1pm–4pm) SEEDS – Collage workshop with Belén L.Yáñez
Thursday 23 May 2019 (7pm–8pm) Awakening, Sweet & Sour – Participatory performance
Wednesday 22 May 2019 (7pm–8pm) Touching Home – a sensory theatre show by 27 degrees
Sunday 26 May, Saturday 1 June  and Sunday 2 June 2019 (3pm–3.45pm and 4pm–4.45pm) Encounters – Participatory video installation
Tuesday 11 June (6.30pm–9pm) Migrateful – Ecuadorean cookery class with Leonor
Thursday 13 June 2019 (6pm–9pm) TalkingART Lates: Curate, Create, Communicate – a talk with curator and artists in residence
Late openings
We are now open until 8pm every Thursday (except for special events and holiday closings – please check our website for the latest information). Come and see our Room to Breathe exhibition after work or studies, grab a drink and chat to members of our team.
Audio stories
Listen to a selection of food-related audio stories from the exhibition.
Acknowledgments
Storytellers
Ansar Ahmed Ullah, Leonardo Alvarado, Daniele Amici, Margaret Andrews, Eleonora Angelelli, Pintusorn Anstey, Naaman Azhari, Muharrem Bora, Doreen Bourne, Tew Bunnag, Carolina Caicedo, Daniel Castro Garcia, Ilka Chakravarty, Raj Cheema, Alvin Chung ,Ela Ciecierska, Juan Delgado, Dimple Devadas, Michael Donkor, Antonia Folivi, Sister Christine Frost, Margaret (Maggie) Gold, Rachel Griffiths, Lem Lem Haile, Joseph Healy, Anna Hegarty, Sophie Herxheimer, Alex Ioannou, Karamat Iqbal, Dima Karout, Fowokan George Kelly, Luthfa Khan, Nojmun Nessa Khanom, Amarjit Kochhar, Wen Ying Lee, Tara Lehmann, Jenny Li, Cheng Luo, Liz Maginn, Geraldine Maidment, Joaquin Malolos, Valcie McIntosh, Atakan Mercan, Roberto Mori, Bushra Nasir, Maurice Nwokeji, Herman Ouseley, Grace Paṣeda, Jill Patterson, Mais Peachey, Juliana Pflaumer, Maria Pintado, Sonia Quintero, Cathy Robinson, Nasrin Rooghani, Sylvia Saxby, Andrey Sidelnikov, Malgosia Stepnik, Blanca Stern, Anna Turowska, Allyson Williams, Amel, Fiona, Lea, Lilian, Lola, Nessy, Yuet
Story collectors
Meera Chindooroy, Nicola Coles, Jeanette Farrell, Mona Jamil, Sonia Kneepkens, Cheng Luo, Margarita Novikova, Lucia Scazzocchio, Fan Sissoko, Eva Tausig, Julie Taylor, Cruz Maria Vallespir
Filmmakers
Ufuk Gokkaya, Mitchell Harris, Itteshad Hossain, Eithne Nightingale
Animator
Kate Anderson
Photographers
Gary Manhine, Ben Walsh, Rich Wiles, Keymea Yazdanian
Artists in residence
Dima Karout (curator-in-residence of the art studio), New Art Studio, Ceyda Oskay, Habib Sadat, Shorsh Saleh, Belen Yanez
Featured projects
Plaits, Princesses + Pink Moisturiser (Courtesy Korantema Anyimadu, images © Nana Ama), Child Migrant Stories – Voices Past and Present (Courtesy Eithne Nightingale)
Colours of Kindness installation
Agnes Wiercioch, Caroline Wisniewska
Sound design
Bill Bingham, Lucia Scazzocchio
Interactive design
Clay Interactive 
Graphic design
Roland Williams
Lighting
Liam Hayhow
With thanks to
27 degrees, Lucy Askew, Chris Barrett , Hogan Lovells (Rhonda Ingram), Oliver Hopwood and Westminster School, Lisa Lee, Mazi Mas, Reset Communities and Refugees, Matthew Rosenberg, Sav Kyriacou, CARAS, Camilla Sutton, Lorenzo Tamburini, Julie Taylor and Martin Primary School, U+I and all of our wonderful volunteers.
Funders and sponsors
Room to Breathe is supported by Arts Council England, Cockayne – Grants for the Arts and the Doris Pacey and Dr Michael and Anna Brynberg Charitable Foundations. The Centre for the Study of Migration at Queen Mary University of London and Vauxhall One are sponsoring a number of roundtables and events associated with the exhibition.

We are grateful to all of our funders and donors, including Esmée Fairbairn Foundation, Paul Hamlyn Foundation, Alfred Caplin Charity Settlement, Trust for London and Unbound Philanthropy. We would like to thank U+I for enabling us to host our museum at The Workshop.