Event listing
Room to Breathe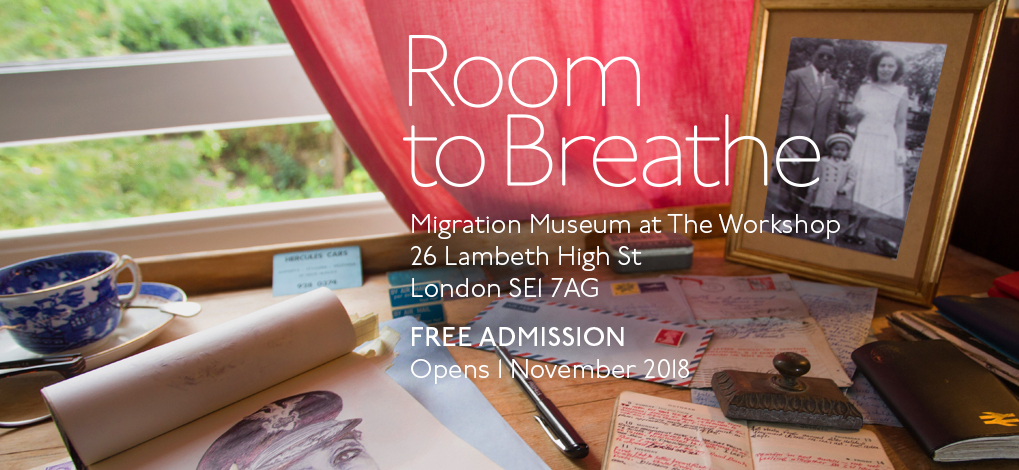 When
Nov 1, 2018 - Jul 28, 2019
Where
Migration Museum at The Workshop,
26 Lambeth High Street,
London, SE1 7AG
Summary
Please note that we are closed for the holidays from Friday 21 December 2018 until Wednesday 9 January 2019 (inclusive). Our first day open after the holidays is Thursday 10 January 2019.
Dates: 1 November 2018–28 July 2019
Opening hours: Thursday 12pm–8pm, Friday–Sunday 12pm–6pm
Venue: Migration Museum at The Workshop, 26 Lambeth High Street, London SE1 7AG (Nearest tubes Vauxhall, Lambeth North and Westminster)
Admission: Free
Open the door, put down your suitcase, take off your coat, let the outside world fade away. This is where it begins. A room that you can start to call a home. A room to breathe.
Room to Breathe is an immersive exhibition inviting you to discover stories from generations of new arrivals to Britain. Journey through a series of rooms in which the personal struggles, joys, disappointments and achievements of creating a home, finding work, navigating hardships, making friends and forming communities are brought to life through audio, films, photographs and personal objects. There is no single overarching story, just fragments of daily life.
Explore rooms to sleep, eat, create and meet. Make these rooms your own. Open drawers, look through cupboards, settle into an armchair. Contribute your story and make connections to the past and present.
Artists in residence
Room to Breathe will serve as a setting for a series of residencies by migrant artists, who will be invited to use one part of the exhibition space as their studio. Each artist will host a series of workshops during their residency, and works created by all of our artists in residence will be displayed as part of a final group exhibition in summer 2019.
Schedule of artists in residence (more information and details of workshops and events during each residency to be announced soon):
Dima Karout (1 November 2018–2 December 2018)
Habib Sadat (6 December 2018–13 January 2019)
New Art Studio (17 January 2019–24 February 2019)
Ceyda Oskay (28 February 2019–31 March 2019)
Shorsh Saleh (4 April 2019–28 April 2019)
Belén L. Yáñez (2 May 2019–2 June 2019)
Final group exhibition (6 June 2019–28 July 2019)
Events and activities
We will also be staging a varied programme of exhibition-related events and activities, from cookery classes to flash performances, storytelling evenings to art and craft workshops.
Schedule of events and activities:
Every Sunday in November 2018 (3pm–4pm) Meet the Artist – Dima Karout
Wednesday 21 November (6.30pm–9pm) Migrateful – Afghan cookery class with Habib, one of our upcoming artists in residence
Saturday 24 November (11am–3pm) Connect the Dots workshop – by Dima Karout
Thursday 6 December (6pm–6.45pm and 7.30pm–8.15pm) Touching Home – a new sensory theatre show by 27 degrees
Wednesday 12 December (6.30pm –9pm) Migrateful – Albanian cookery class with Deshira
More details of other events accompanying this exhibition to follow shortly…
Late openings
We are now open until 8pm every Thursday (except for special events and holiday closings – please check our website for the latest information). Come and see our Room to Breathe exhibition after work, grab a drink and chat to members of our team.