Migration Museum awarded Museum of Sanctuary status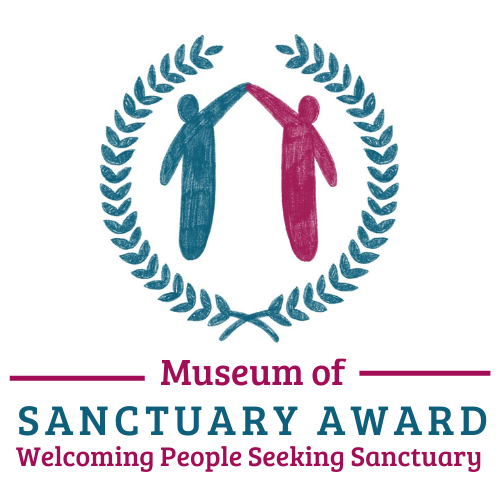 The Migration Museum has been awarded Museum of Sanctuary status.
The Museums of Sanctuary initiative celebrates organisations who go above and beyond to welcome people seeking sanctuary into their communities and promote a culture of inclusion for all.
To be awarded this status, organisations must demonstrate an existing commitment to welcoming and supporting sanctuary seekers and then pledge to develop this even further over the next three years.
Announcing the award, Ashley Beckett, London Co-ordinator and Arts and Libraries Lead, said: "The Migration Museum has a history of championing stories of people on the move and how important they are to British society. It is a great honour to give them a Museum of Sanctuary Award for all the stories they have told and the work they continue to do to put people with lived experience of seeking sanctuary at the heart of their work."
Mona Jamil, Museum Manager at the Migration Museum, said: "We are delighted to be recognised for our commitment to sanctuary seekers in Britain today. Through the themes we cover in our creative outputs, the partnerships we forge, and the people we work with, the Migration Museum has demonstrated an ongoing engagement with people seeking sanctuary. Our incredible team have worked on projects that platform and celebrate the experiences of sanctuary seekers, and we look forward to developing our activities following guidance from the City of Sanctuary UK awarding team."

These recommendations included:

More formalised training with all staff around some of the sensitivities of people with lived experience in seeking sanctuary.
Using the Migration Network to foster best practices for museums and galleries in the Sanctuary Network. 
Sharing a toolkit for how to do effective co-production when planning programming and values for a museum and gallery.
Mona Jamil added: "We look forward to further developing our work and practice in line with these recommendations and to working closely with our fellow museums, galleries and organisations within the Sanctuary Network to further welcome and support people seeking sanctuary and promote a culture of inclusion for all."
Find out more about City of Sanctuary UK and the Sanctuary Awards