In memory of George Alagiah OBE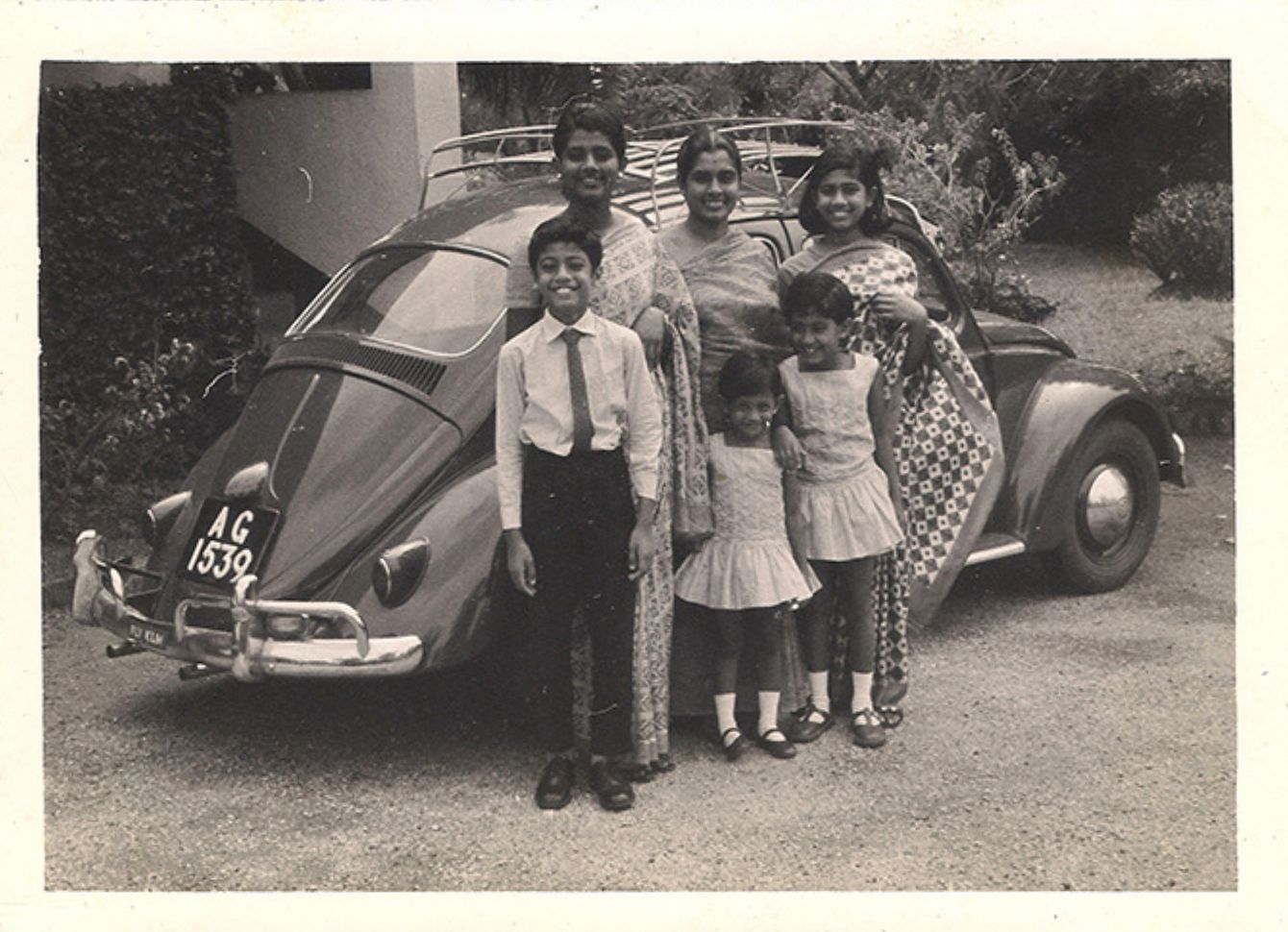 We are heartbroken that our trustee George Alagiah OBE has passed away. George was a passionate supporter, a remarkable trustee and a true friend and champion.
Above is a family photo of George, his mother Therese and siblings taken in Ghana in the early 1960s. George contributed this photo to our very first exhibition, 100 Images of Migration. We send our heartfelt thoughts and condolences to his family.
Below is a tribute to George written by our CEO, Sophie Henderson:
"It was just so sad hearing that George Alagiah had died, and such a shock though we knew full well that his cancer had recently taken an irreversible turn for the worse. The thing that always first springs to mind about George is just how much we – and everybody – really loved him. He had an extraordinary warmth and an ability instantly to connect with people.
The first time I met George was when I'd invited him to chair one of the Migration Museum's early events in 2013 – a panel discussion at the Science Museum about what our DNA can (and more importantly cannot) tell us about our migration roots – and he opened this serious discussion with a hilarious reflection on his own migration story, his early desire as a schoolboy newly arrived in Britain to fit in, and the embarrassment he felt at his difficulty with pronouncing 'V' and 'W' words. Even now, he said, as a fluent English speaker who had lived in Britain for 40 years, he still dreaded the day when, on the 6 O'clock News, he might be asked to report on the fortunes of a certain German car manufacturer or that a US politician had performed 'very well in West Virginia'.
Years later, in 2017 when the Migration Museum proudly opened the doors to its first temporary home in Lambeth, by which time George had become a steadfast supporter, he once again took to the stage, spellbinding his audience with a passionate, eloquent justification for the existence of a permanent Migration Museum. He reflected on how his own father's death had left him bereft, no longer with the ability to point to the man himself, hear his stories, see the sarong that he wore, or hear the Tamil that he spoke. In particular, it was now so much more difficult to explain to his own two sons – 'as British as they come' – where their family's journey had started. George said that he planned a trip to Sri Lanka to show his family, not how different they were, but that this was where the Alagiahs had set out from, bringing with them their talents, their hopes, and their sheer hard work. In essence, George said, this is what the Migration Museum could represent for all of us: a place where Britain's story could be told in all its colour and varieties and where people who are born here and people born there, people British by choice and British by birth could come together, take ownership of this story and call it ours. George said that he was often described (when not as a 'veteran news presenter') as an 'immigrant success story' and that, yes, though talent and hard work had something to do with it, that wasn't the whole story. George also felt that he had received the great gift of opportunity and he was therefore not just an 'immigrant success story' but a 'British success story.' My story, he said, is possible when Britain is true to itself.
Having read George's warm and witty memoir A Home from Home: From Immigrant Boy to English Man, I felt that George would support the idea of creating a permanent Migration Museum for Britain in principle – indeed he called for such an institution in terms in his book, asking why on earth we didn't already have a high profile, permanent institution to put stories like his right at centre stage – a place where we could recognise and value the contribution that migrants have always made to building Britain, shaping all aspects of our lives from the food we eat and the clothes we wear to the language we speak, the sporting heroes that we cheer and the institutions – such as the NHS – that we cherish and sometimes take for granted. But what I couldn't know at first was just what a passionate and committed supporter George would become. Through his devastating diagnosis, operations and seemingly endless rounds of treatment George remained close to us, consistently encouraging and supportive and absolutely convinced that we would succeed in achieving our goal. Latterly George joined us as a trustee of the most active and committed kind. Obviously, he sprinkled stardust on our Board, but he also brought that most that most brilliant combination of qualities: passion and optimism together with real attention to detail and robust critical challenge.
The Migration Museum has recently started a new chapter. In February 2023, planning consent was granted by the Corporation of London for a new development that will afford the Migration Museum a permanent home in the City of London in three years' time. George was always unbelievably generous towards us with his time and energies, and we are moved beyond words that, with the terrible illness that he was facing, he chose to give us his support. It is in no small measure thanks to George that we are now so close to achieving our goal of delivering a permanent home for the Migration Museum that Britain so richly deserves, and we will treasure and honour his memory by doing so."
– Sophie Henderson, CEO of the Migration Museum