Aditi Anand wins Museums Change Lives Radical Changemaker Award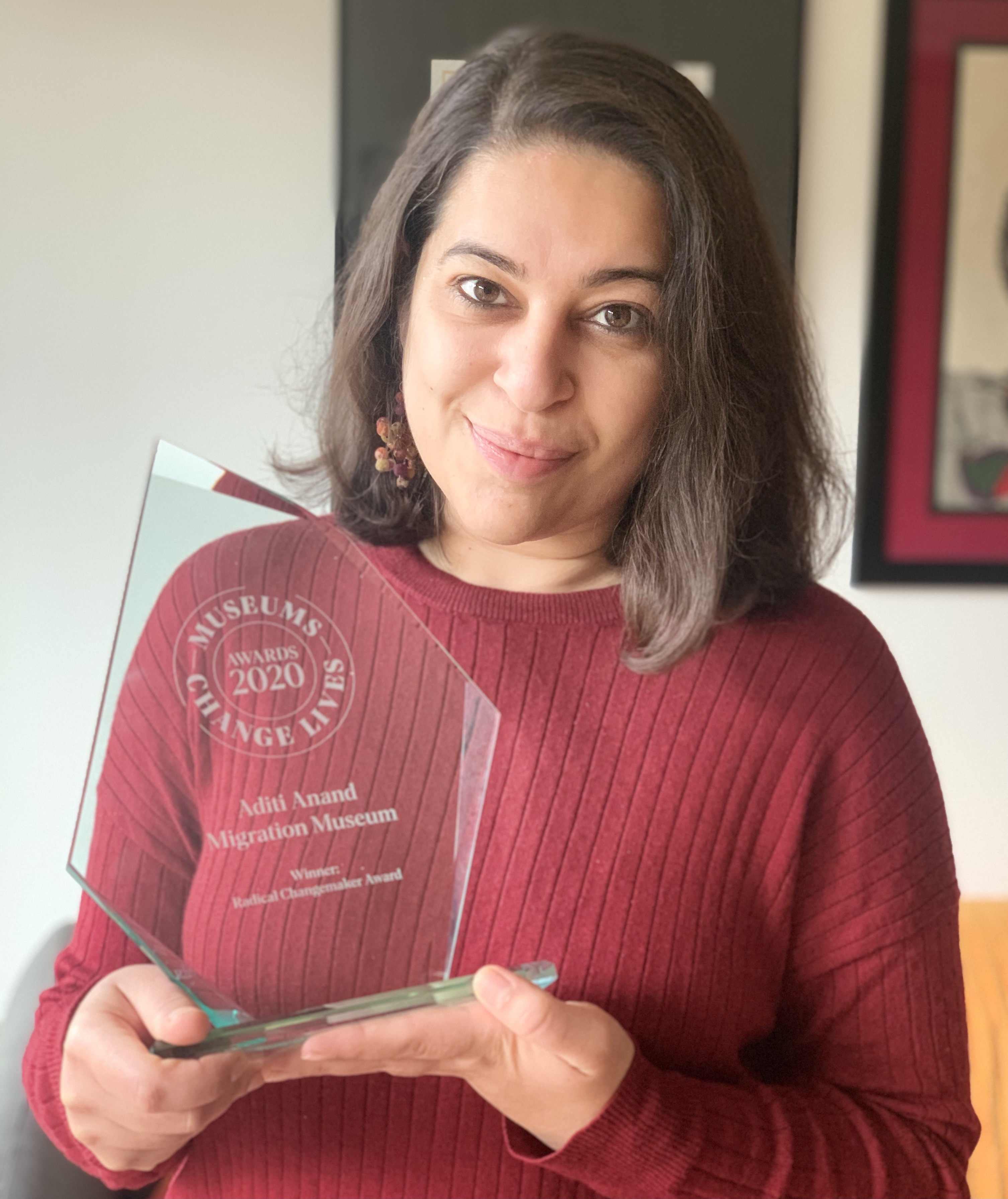 We are delighted to announce that Aditi Anand, our Head of Creative Content, has won the Radical Changemaker Award at the Museums Association's Museums Change Lives Awards 2020.
Aditi joined the Migration Museum in 2015 and has curated or co-created all of our major exhibitions since, including Departures, our new exhibition exploring 400 years of emigration from Britain; our immersive exhibition Room to Breathe, bringing to life the personal stories from generations of new arrivals to Britain; No Turning Back: Seven Migration Moments that Changed Britain; and Call Me By My Name: Stories from Calais and Beyond. She also curated our digital exhibition Heart of the Nation: Migration and the Making of the NHS, shining a light on the stories and experiences of people who have come to Britain to work in the NHS over the past 72 years.
The Museums Change Lives Awards celebrate the achievements of museums that are making a difference to the lives of their audiences and communities across the UK. This year's awards took place at an online ceremony as part of the Museums Association's annual conference. The Radical Changemaker Award recognises the achievements of an individual in promoting one or more of the themes of the Museums Change Lives campaign, which shows how museums of all sizes and collections are impacting people and communities, in their museum.
"We have been incredibly fortunate to have Aditi as our Head of Creative Content at the Migration Museum for the past five years. In that time she has played a leading role in creating a number of critically acclaimed, richly participatory and beautiful exhibitions, all of which have personal and community stories at their core," says Sophie Henderson, Director of the Migration Museum.
"Aditi leads our creative team and artistic vision with real warmth, flair, innovation and an astonishing capacity for hard work. Aditi is an inspirational and brilliant radical changemaker and this award is richly deserved."
Prior to joining the Migration Museum, Aditi produced and managed a multimedia education project in India that is currently being implemented in over a thousand schools and was communications lead for India's largest media for social change initiative. She has also worked in New York with the Museum of the Moving Image and interactive design firm, Local Projects. She graduated with a Bachelor's degree in Anthropology from Yale University.
Aditi's latest exhibition, Departures, opened at the Migration Museum in Lewisham in October 2020. While the exhibition is currently closed to the public in line with government restrictions in response to Coronavirus (Covid-19), we hope to reopen the exhibition again soon, in line with government and public health regulations and guidance.
Find out more about the Museums Change Live Awards and view the full list of awards and nominees here.