Call me by my name: stories from Calais and beyond
About the exhibition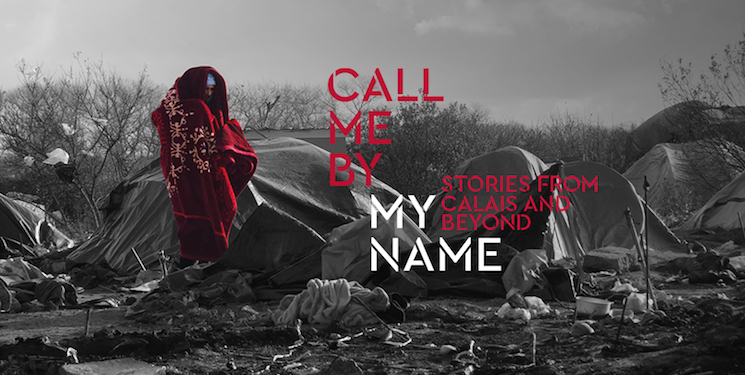 The refugee and migrant camp in Calais became a potent symbol of Europe's migration 'crisis'. But while it dominated headlines and polarised political debate, the lives and stories of individuals in the camp and on the move across Europe were often overlooked – and remain so to this day.
Originally staged to critical acclaim in London in June 2016, four months before the demolition of the camp, this updated multimedia exhibition from the Migration Museum Project delves beneath the headlines to examine the complexity and humanity behind the Calais camp and the ongoing migration 'crisis'. It is both a record of a complex temporary space that no longer officially exists and an exploration of the individual stories and creativity of those who temporarily inhabited it, many of whom remain in and around Calais – some sleeping rough – and continue to face an uncertain future. Meanwhile, hundreds of thousands more individuals remain on the move, seeking new lives in the UK and elsewhere.
Through powerful works and contributions by artists and photographers, refugees, volunteers and members of the public, migrants emerge from a nameless group into named individuals, each with a unique story and set of reasons for being in Calais. The camp, meanwhile, is revealed as an intricate and organised settlement that existed in some form for nearly 25 years, with ever-evolving sets of communities, challenges, tensions and opportunities.
Join the conversation on Twitter using #CalaisStories. You can find us at @MigrationUK
Share your pictures on Instagram using #CalaisStories
Past displays of Call Me by My Name: Stories from Calais and Beyond include:
Migration Museum at The Workshop, London, 26 April–20 August 2017
Lightbox Gallery, Leicester, 19 June–23 June 2017
Londonewcastle Project Space, London, 2 June–22 June 2016
Acclaim for Call Me by My Name: Stories from Calais and Beyond
Acclaim for our previous staging of Call Me by My Name:
"What a powerful exhibition! I wish it could have been on for longer so that more politicians could have seen it. The exhibition brought home how the human spirit can triumph over the most appalling conditions. Congratulations to all who put this on" – Lord Alf Dubs
Pick of the Week – Metro
Pick of the Week – Royal Academy of Arts
"This exhibition is designed to put a human face to a news story that often focuses on numbers … [It] leaves a lasting impact on any visitor and does a great job of raising awareness and compassion towards migrants."– Londonist
"The most important exhibition you will see this year." – East London Lines
"This exhibition will challenge your misconceptions of the Calais 'Jungle'… [It] forces us to reconsider how we react to, and talk about the complexities of the refugee crisis." – Huck Magazine
Call me by my name: Stories from Calais and beyond 2016 from Migration Museum Project on Vimeo.