Event listing
Call me by my name: stories from Calais and beyond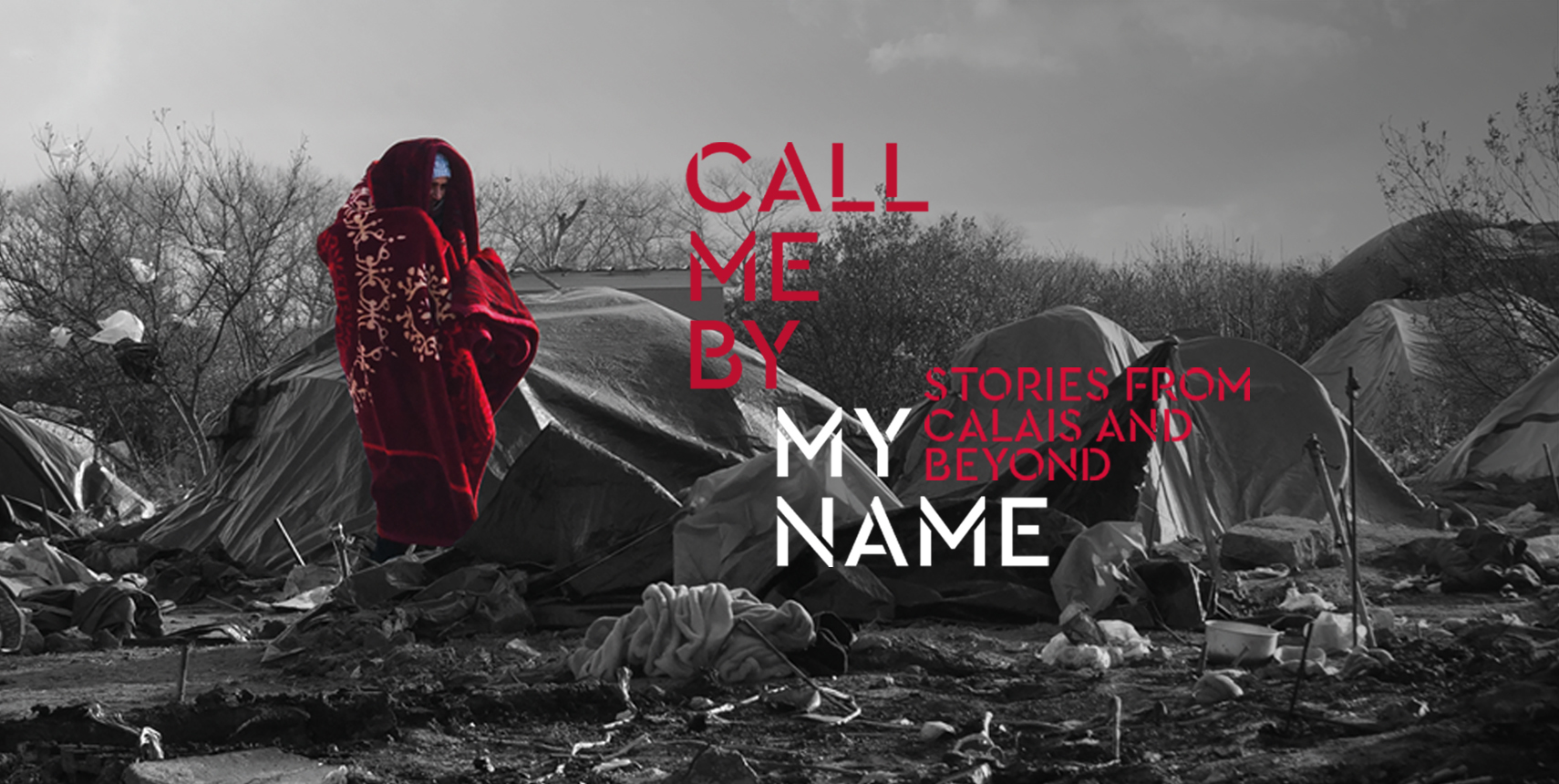 When
Jun 2, 2016 - Jun 22, 2016
Where
Londonewcastle Project Space,
28 Redchurch Street,
London, E2 7DP
Summary
Call me by my name: Stories from Calais and beyond from Migration Museum Project on Vimeo.
Call me by my name: stories from Calais and beyond
2 June – 22 June 2016  | 12pm–8pm (open every day) | Free admission
Londonewcastle Project Space
28 Redchurch St, London E2 7DP
Transport: Overground (Shoreditch High Street – 2 min walk), Tube (Old Street/Liverpool Street – 10 min walk), Bus (8, 23, 26, 35, 47, 48, 67, 149, 242, 388)

The Calais camp has become a potent symbol of Europe's migration crisis. Public opinion on this ever- evolving shantytown and its inhabitants is polarised: to some a threatening swarm seeking entry to our already overstretched island-nation, to others a shameful symbol of our failed foreign policy. Amid such debate, it is easy to lose sight of the thousands of individuals who have found themselves in limbo in Calais, each with their own story and reasons for wanting to reach Britain.
Call me by my name: stories from Calais and beyond is a multimedia exhibition, taking place in a momentous month that sees both the EU referendum and Refugee Week. It explores the complexity and human stories behind the current migration crisis, with a particular focus on the Calais camp.
The exhibition features compelling works by established and emerging artists, refugees, camp residents and volunteers. These include a powerful new installation by award-winning artist Nikolaj Bendix Skyum Larsen, art by ALPHA using materials from the camp, drawings of Calais by illustrator Nick Ellwood, art and photography by camp residents, and an installation of lifejackets embedded with the stories of their wearers.
Evaluation
The exhibition was staged in June 2016 in London, where it had over 4000 visitors. The full evaluation report is available to download here.
Contributors
Artists: ALPHA, Denys Blacker, Nick Ellwood, Ibrahim Fakhri, Habib, Cedoux Kadima, Olivier Kugler, Nikolaj Bendix Skyum Larsen, Sarah Savage, Stik, Hannah-Rose Thomas, Yasir and all artists from the Calais refugee camp
Photographers: Chris Barrett, Daniel Castro Garcia, Paul Evans, Sarah Hickson, Beatrice-Lily Lorigan, Rob Pinney, Tom Saxby, Christian Sinibaldi, Mary Turner and all photographers from Welcome to our Jungle and the Calais refugee camp
Filmmakers: Andrew Ash, Hugh Brody, Tomo Brody, Juliet Stevenson, Ciaran Henry, Nikolaj Bendix Skyum Larsen, Richard Mackenzie, Chester Yang
Mapmakers: Elisavet Dimitriou, Ilar Farrokhzad, Natalie Klak, Urangua Sodnomjamts, Christos Sevastides, Joshua Corden, Na-Pat Tengtrirat
Organisations: A Home for Winter, Art Refuge UK, L'Auberge des Migrants, British Future, Calais Action, Calais Kitchen, Calais Sessions, Care4Calais, Citizens UK, Good Chance Theatre, Hands International, Help Refugees, Humanitarian Aid & Wellbeing Association, International Organisation for Migration, Islington Law Centre, Jungala Radio, Refugee Info Bus, Refugee Youth Service,
Storytellers: Ahmad Al-Rashid, Azzat, Leonie Anselms de Vries, Roxanne Courtney, Abi Evans, Ibrahim Fakhri, Annie Gavrilescu, Laura Griffiths, Bindu Issac, Muhayman Jamil, Sunder Katwala, Kesh, Kirsty, Maya Konforti, Kilian Kleinschmidt, Danielle Lawrence, Jess Linton, Anne Locke, Vanessa Lucas-Smith, Mahmoud, Karen Moynihan, Mohammed, Mohammed Omer, Joe Murphy, Naquib, Osman, Pupils from John Wallis Academy in Ashford, Brian Quaife, Tom Radcliffe, Joe Robertson, Sarah Story, Sikander, Roopa Tanna, Hannah Thomas, Hannah-Sophie Wahle, Wasim, Peter Williams, Rabbi Jonathan Wittenberg
Audio from the Listening Hut
Join the conversation
Tweet to us at @MigrationUK using #CalaisStories. You can also view a Twitter tour of the exhibition here.
Events associated with this exhibition
Birds Crossing Borders drop in art workshop, 4 June 2016, 2 – 4 pm
Poetry of Migration, 6 June 2016, 5:30 – 8:30 pm
Making Human Rights across Borders, 11 June 2016, 1 – 4 pm
What is Britishness? 14 June 2016, 7 – 9 pm
Big ideas? Big questions? Pop-up Profs, 15 June, 4 – 7 pm and 20 June, 4 – 7 pm
'Jungle' to City: Development of the Calais camp, 15 June, 7-9pm
Film Screening: A Syrian Love Story, 16 June, 6-8pm
Interactive performance art workshop by Nomad and Denys Blacker, 18 June, 3-6pm
Moving Stories photobooth presented by IOM, 18 June, 12-5pm
The Ethics of People Smuggling 21 June 2016, 6-9 pm
News coverage
Our pick of this week's art events: 2 June – 9 June, Royal Academy of Arts
The cartography of control: Mapping the Calais refugee camp, Quartz
The Migration Museum Wants To Show That The Refugee Crisis Is More Than Just Statistics, Fast Company
The Top 6 Art Exhibitions to see in London this week, FAD Magazine
The best of the worst place I've ever seen, OneWorld
Call me by my name: stories from Calais and beyond, UNITED blog
Migrants Arrive In Shoreditch In The Form Of An Exhibition, Londonist
Call Me By My Name: Stories from Calais and beyond, London Calling
London art gallery showcases Calais migrant stories, Daily Mail
London art gallery showcases Calais migrant stories, Reuters
Shoreditch exhibition tells stories from Calais migrant 'Jungle' camp, Hackney Gazette
Emotive migrant exhibition pulls no punches, East London Lines
London exhibition showcases art by Calais refugees, World Bulletin
This exhibition will challenge your misconceptions of the Calais 'Jungle', Huck Magazine
Meet the Sudanese refugee artist painting the migrant crisis in the Calais 'Jungle', International Business Times
Telling stories from Calais and beyond, Museums Association
Interpreting the migrant crisis, Museums Association
Is there a responsible way to make art about Syria?, Artsy editorial
Supporters
The Migration Museum Project would like to thank the following donors for their generous grants and support, without which we would not have been able to stage this exhibition: Londonewcastle, Arts Council England, Citizenship and Governance Research at The Open University, The University of Oxford's Centre on Migration, Policy and Society (COMPAS), Daniel Franklin, and all of the generous contributors to our crowdfunding campaign, including Michael and Em O'Kane, David Warren, Duke of Buccleuch and Tom Jupp. We would also like to thank Counterpoints Arts for their advice and support during the planning of this exhibition.