Departures
About the exhibition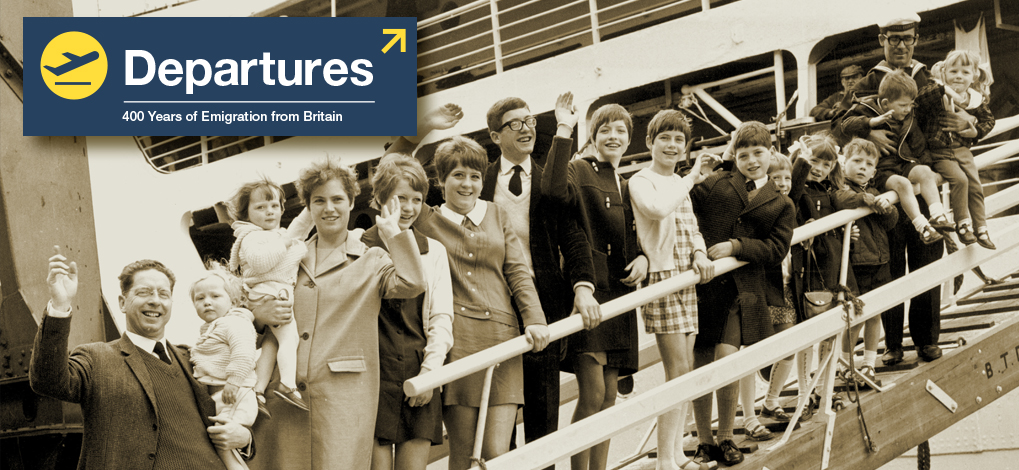 This exhibition is now closed to the public
Departures is an immersive exhibition at the Migration Museum in London exploring 400 years of emigration from Britain from the Mayflower to the present day through personal narratives, contemporary art and a range of media.
British emigration has been one of the largest movements of people in modern history. Tens of millions of people have left the British Isles over the past 400 years. Today, some 75 million people across the world self-identify as having British ancestry, greater than the population of the UK itself.
But while immigration dominates debates, Britain's emigration story is often overlooked. Why is this? Who are the many millions who have departed these shores and why did they go? Can exploring their motivations help us better understand the motivations of people who arrive? What impact has this mass movement had on the world – and on Britain?
Departures puts this lesser-explored story at centre stage. The exhibition features dozens of emigration stories spanning four centuries – from Mayflower Pilgrims to Windrush deportees, Cornish and Welsh emigrants to South America to 'Ten Pound Poms', Black Londoners resettled in Sierra Leone in the 1780s to Black Britons who have recently moved 'back' to their parents' countries of birth across West Africa, and Britons currently living across the EU who are facing up to Brexit.
Visitors will embark on an immersive journey starting in a 'Departures Lounge' featuring guidebooks for emigrants and an animated timeline, proceeding through 'Passport Control' to a series of themed 'Departure Gates' exploring different reasons and motivations for leaving, finishing in an interactive 'Baggage Reclaim' hall in which visitors are invited to share their thoughts on the complex legacies of British emigration.
Welcome to Departures. Your journey begins here.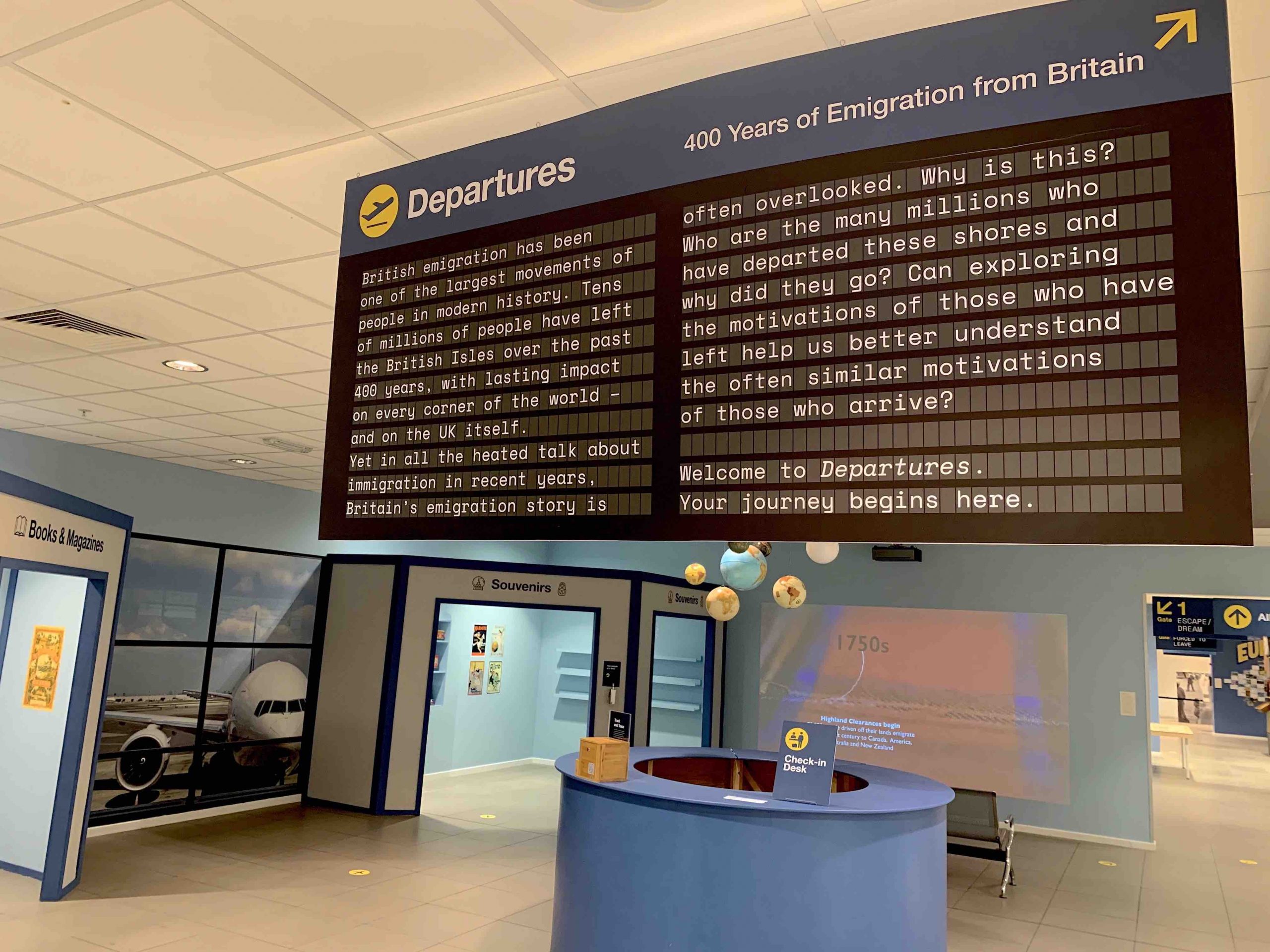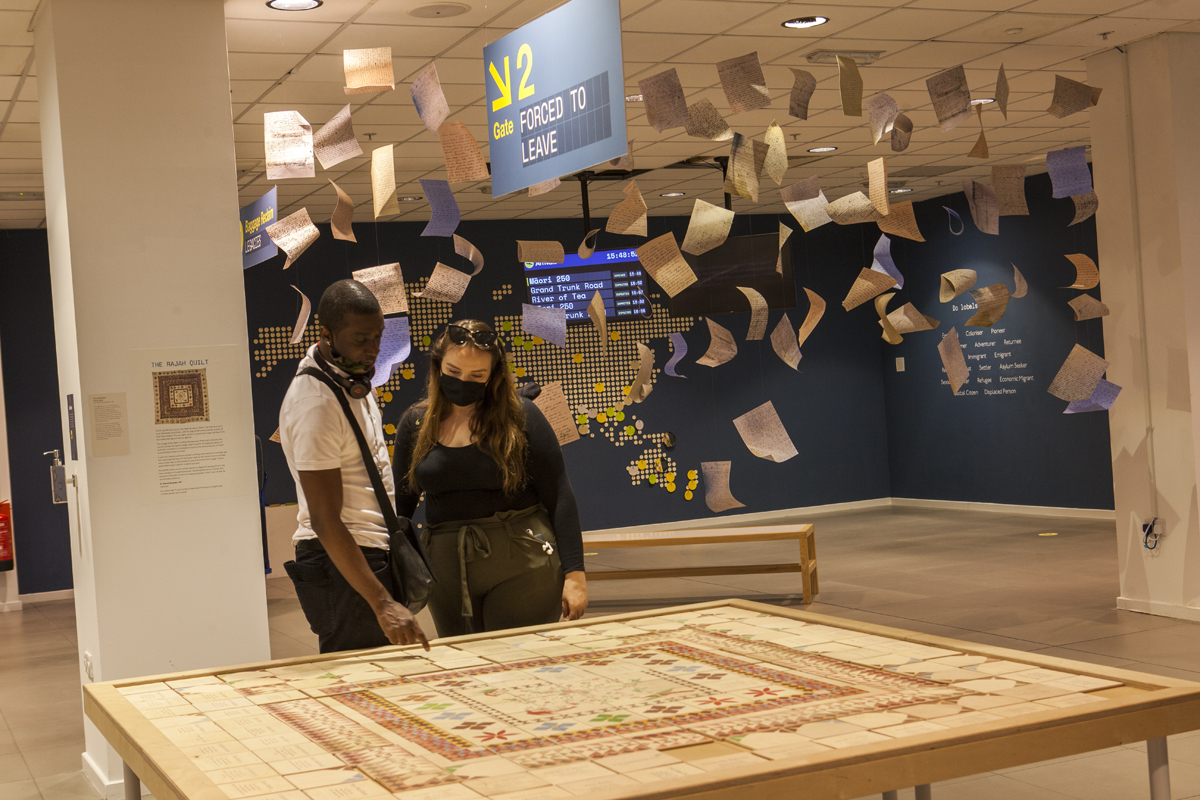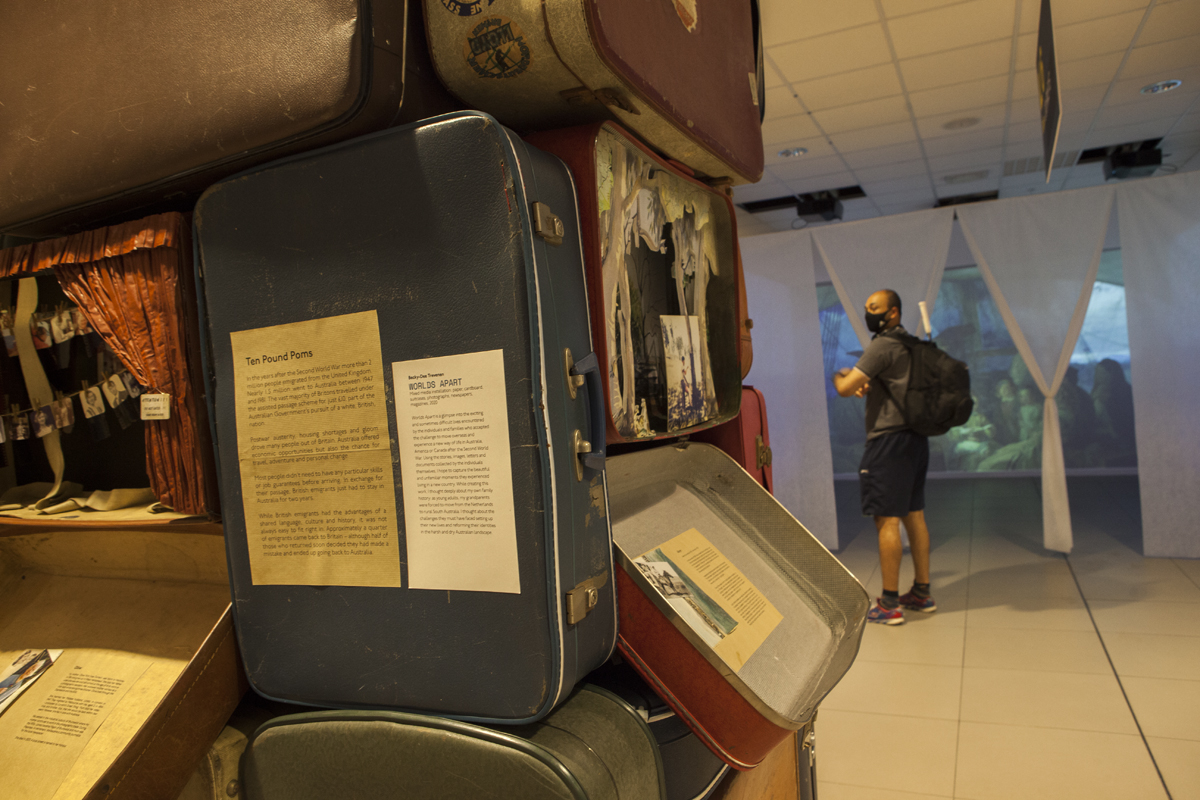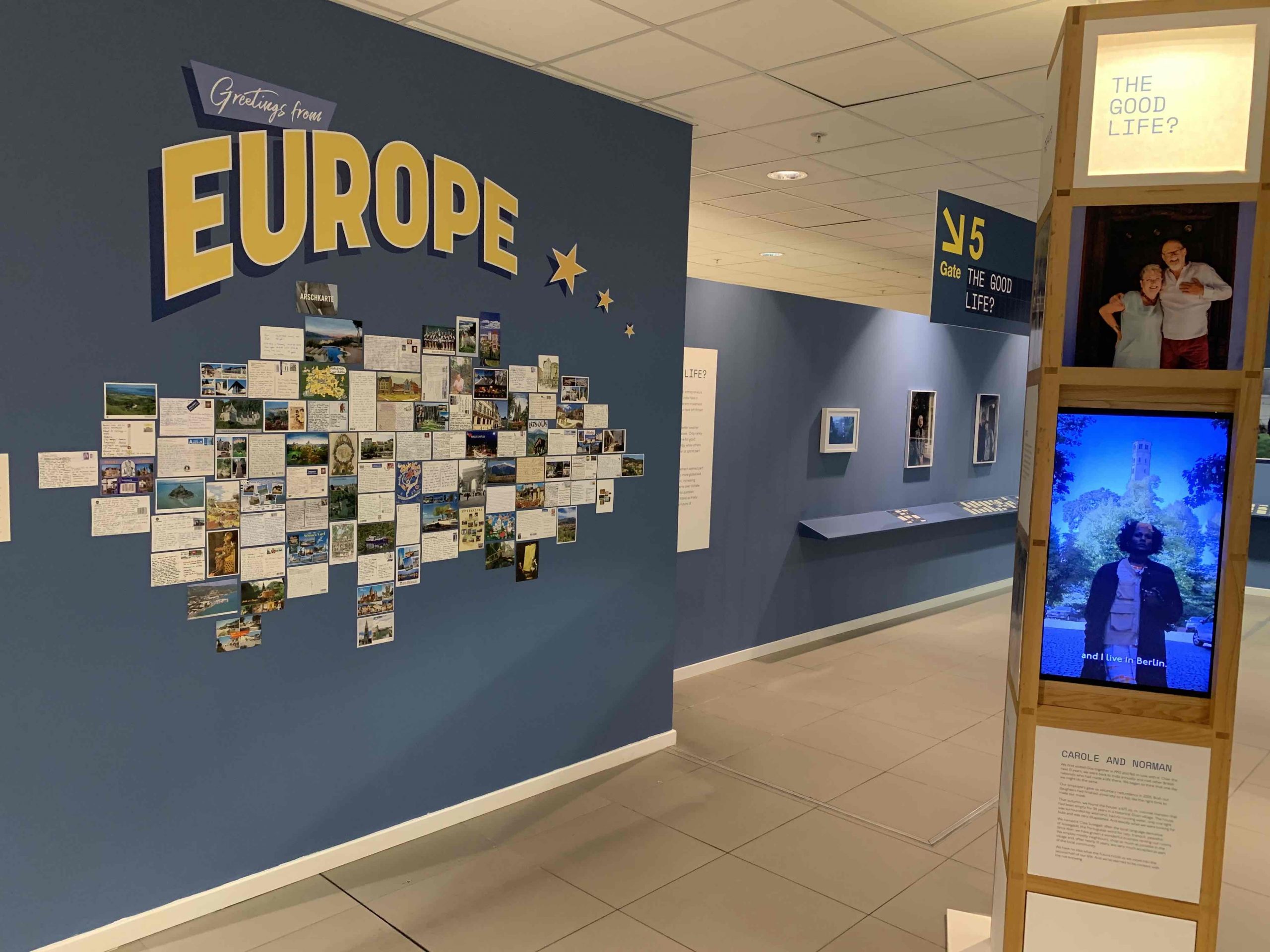 Photos by Elzbieta Piekacz

Stories in Focus: Departures – Free mini-tours
Every Saturday and Sunday until 13 February 2022
2pm and 3pm Free – no need to book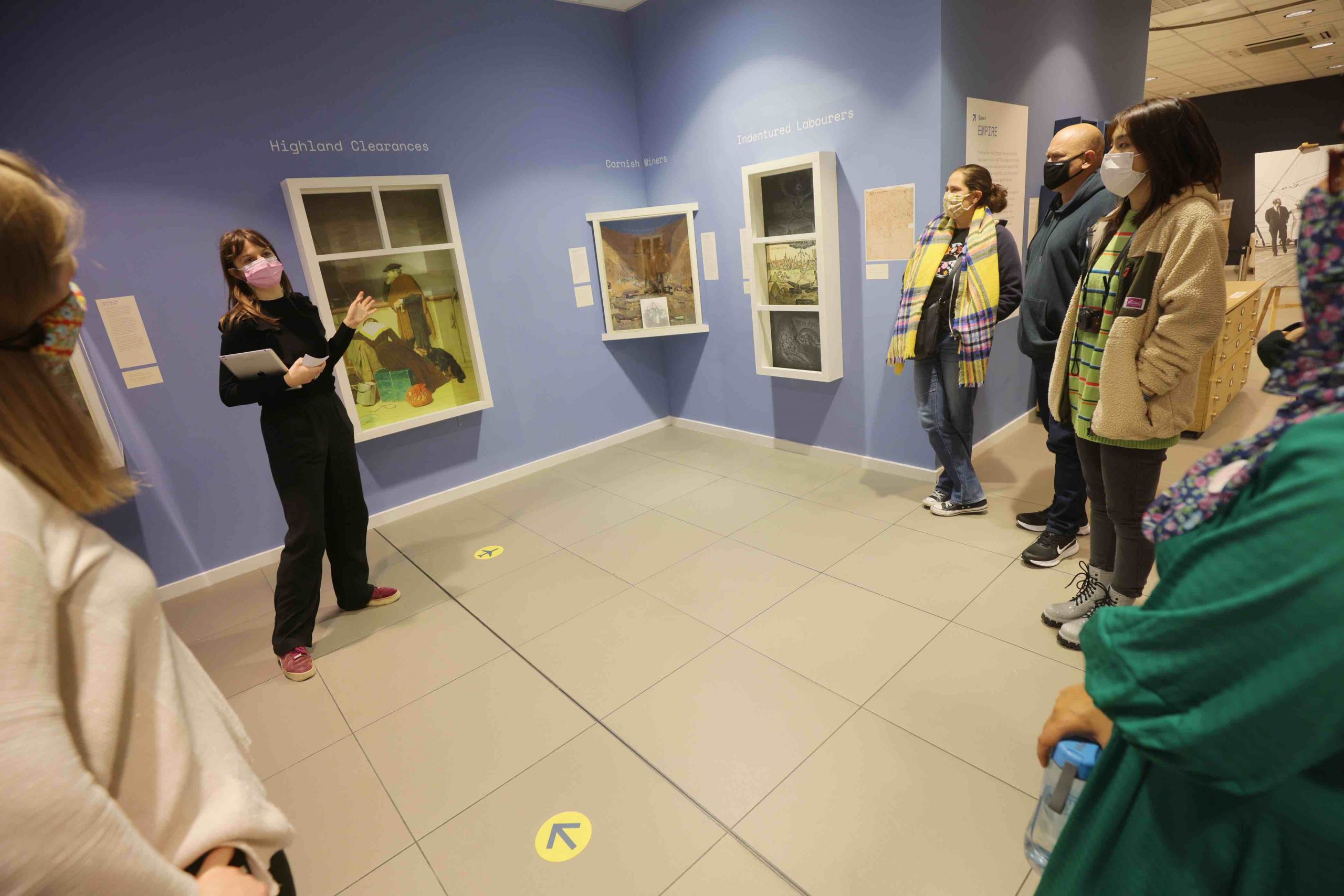 Join us on Saturdays and Sundays for a free mini-tour of our Departures exhibition. These short tours include an introduction to the exhibition and the chance to delve a little deeper into one of the emigration stories featured in the exhibition.
Departures is a podcast series accompanying the exhibition, exploring 400 years of emigration from Britain.
What would it take for you to leave your home? To leave everything and everyone you know to move to another country and start again. Over the past 400 years, that's exactly what millions of British people have been doing. Today, the news headlines are full of stories of migrants trying to come to Britain. But for most of this country's history, it's actually been the other way round. And Britain's emigration rate remains one of the highest in the world. Why has such a small island nation produced so many migrants and how have they shaped the world we live in today? Mukti Jain Campion speaks to people who are shedding new light on this often hidden history.
Listen below or on Spotify, Apple Podcasts, Google Podcasts or wherever you get your podcasts by searching 'Departures 400 Years of Emigration'. Find out more about the series and each of the nine episodes here.
Exhibition trailer
A trailer for the Migration Museum's Departures exhibition featuring extracts from 'Timeline', an award-winning film created for the exhibition by Osbert Parker.
Departures virtual launch – hosted by George Alagiah
We held a virtual launch event for Departures hosted by George Alagiah, BBC News presenter, author and distinguished friend of the Migration Museum, and featuring an introduction to the exhibition with curator and Head of Creative Content at the Migration Museum, Aditi Anand, and interviews with and messages from some of the many artists and contributors to Departures from around the world.
Credits
Artists and filmmakers
Agnes Wiercioch, Becky-Dee Trevenen, Caroline Wisniewska, Cat Santos, Chocolate Films, Dawn Parsonage, Ed Hall, Emma Bingham, Kate Anderson, Louise Daneels, Mark McEvoy, Meryl McMaster, Osbert Parker, Rachelle Romeo, Sarah Sense, Sue McAlpine, Tim Smith
Contributors
Alan Taylor, Avril Loveless, Barry York, Carole and Norman, Carol Feldman, Clare Jethwa, Deborah Briers, Elwaldo Romeo, Hannah Ajala, James Evans, Jenny Mallin, Josh and Laura Thomson, Lesley Trotter, Lila Tognetti, Lucy Taylor, Marilyn Barber, Michaela Benson, Nick Ross, Nico Yennaris, Rebecca Fraser, Sasha Perera, William Jervois
Curators
Aditi Anand, Sue McAlpine
Curatorial Assistant
Debbie Meniru
Researchers
Anaïs Walsdorf, Kam Puwar, Kate Kelsall, Liberty Melly, Lisa Lee, Mona Jamil
Advisors
Jean Smith, Jill Rutter, Marilyn Barber, Martin Spafford, Michaela Benson, Murray Watson, Robert Winder, Roger Kershaw, Sarah Kunz
Design
Roland Williams
Interactive design
Clay Interactive
Sound design
Bill Bingham
Installation technician
Nathan Black
Carpentry
JPW Carpentry
Printers
Panopus, Peek Print, Trojan Press, Image Print Centre
Podcast
Culture Wise Productions
Catalogue
Andrew Steeds, Kalina Norton, Lewis Johnston
With thanks to:
Al Thomson, Jim Hammerton, Ian Murphy (National Museums Liverpool), Dr Johanne Devlin Trew (Mellon Centre for Migration Studies), Jonathan Beckett, Kim Tao (Australian Maritime Museum), Kate Clements (Imperial War Museum), Liam Corry (National Museums Northern Ireland), LSE Library, Marion Osgood (OMF Archives), Mike Kiernan (Cornish Global Migration Programme), Roger Kershaw and Hannah Carter (National Archives), Salvation Army International Heritage Centre, Stefan Dickers and Polly North (Bishopsgate Institute), Iyamide Thomas, Korantema Anyimadu, Shereen Lafhaj, Alice Riegler, Polly Mackintosh, Alice LePage, Thomas Ellmer (IKON Gallery), Verity Seward
Volunteers
Carinya Sharples, Disha Deshpande, Haruna Takeda, Huizi Maio, Iman Zaman, Lewis Johnston, Molly Chapman, Nafang Liu, Nelima Islam, Seulgi Ryu, Valerie Ee and Yeona Lee.
Funders
Arts Council England; Goldsmiths, University of London; Hogan Lovells; Northwick Trust; the Stelios Philanthropic Foundation; and the US Embassy London
Acknowledgments
This exhibition is generously supported by Arts Council England; Goldsmiths, University of London; Hogan Lovells; Northwick Trust; the Stelios Philanthropic Foundation; and the US Embassy London. We would like to thank all of the artists, contributors, filmmakers, researchers, advisors, installers and everyone who has contributed to this exhibition and made it possible. We are grateful to all of our funders and donors, including Esmée Fairbairn Foundation, Paul Hamlyn Foundation, Alfred Caplin Charity Settlement, Trust for London and Unbound Philanthropy. We would also like to thank Landsec for generously enabling us to host our museum at Lewisham Shopping Centre.