Introducing Ceyda (Jayda) Oskay, our next Room to Breathe artist-in-residence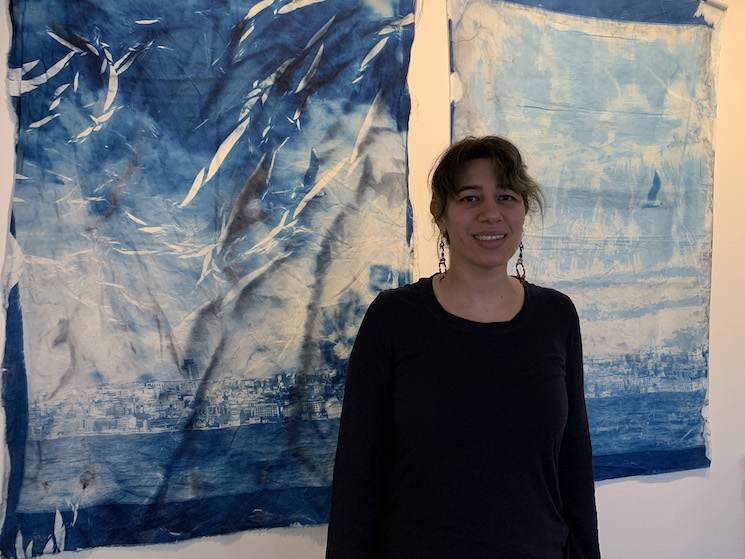 We are delighted to welcome Ceyda Oskay as our next artist in residence as part of our Room to Breathe exhibition. Ceyda will be taking up residency from 28 February until 31 March 2019.
Ceyda is a multimedia artist who frequently explores notions of place and human relationships in her work. Her work ranges from social practice and socially engaged work, to experimental photography, ceramics, sculpture and installation, fibre and textiles, to painting.
Ceyda studied at the University of Chicago, METU University, School of the Art Institute of Chicago, and is currently at the Royal College of Art. She worked on humanitarian and development work for the United Nations for Syria, Turkey, Iraq, Eastern Europe and Central Asia, for over ten years and is currently a consultant in the field. She has visited 24 countries, and studied, worked and exhibited in places including Iceland, Greece, Kuwait, Turkey, USA, UAE and the UK, most recently at the Liverpool Independents Biennial.  She has also co-authored an upcoming publication on nomadic Sadu weaving in the Arabian Peninsula.
"Migration is a major theme in my artwork as I have moved about once a year for a very long time. Since coming to London last year, I've moved six times," Ceyda writes in the text welcoming visitors to her art studio in Room to Breathe.
"Art-making for me is about expressing ideas and feelings, about exploring materials, about places and relationships. The materials I pick for each piece vary depending upon the particularities of each artwork. Much of my work is done with fabric, because of its nomadic, transportable nature. Other work is made from stronger material, but is small – again easily transportable. I also enjoy making crafts and utilitarian items in different ways, sometimes clothes and fashion – and this too is influenced by migration.
As I have done humanitarian work in the war contexts of , countries including Syria and, Iraq, among other places, Kuwait, Eastern Europe and Central Asia, my artwork is often influenced by war and conflict. This artwork is in the form of prints – like the imprints of a war. Some of my other artwork is about human interaction and social engagement, and is more about hope and forming new relationships.
My work has an experimental component: I often don't know what it will be until it is complete."
As well as hosting weekly drop-in sessions in her art studio during her residency, Ceyda will be running a programme of public workshops, ranging from pillow and t-shirt making to discussions on music, places, sleep and dreams – more details on all of which can be found below.
Artist-led workshops
Pillow-making workshop, Saturday 23 March 2019 | 2pm–5.30pm | £16 (advance booking essential – click here to book)
Family T-shirt making workshop, Saturday 30 March 2019 | 2pm–4pm | £10 (one adult and one child – click here to book)
Free drop-in sessions
Every Sunday between 3pm and 4pm during her residency, Ceyda will be in her studio in our Room to Breathe exhibition. You can stop by to chat with her, and make wire-prints of home on a traditional press. At the moment, she is working on making sleepwear from images her friends give her of places for a piece about dreams, places, and sleepwear. She would love to talk to you about places that provide calm and inspiration to you, places of home, utopias – and dreams.
During Ceyda's open studio, participants will have access to paper, wire and a printmaking press where they can make wire line drawings of what reminds them of home, and create embossments (raised prints) from them. These will be exhibited in her studio alongside her artwork, during the time of her residency.
Drop-in sessions: Every Sunday from 3 March until 31 March 2019 | 3pm–4pm
Residency details
Dates: 28 February–31 March 2019
Address: Migration Museum at The Workshop, 26 Lambeth High Street, London SE1 7AG
Opening hours: Thursday 12pm–8pm, Friday–Sunday 12pm–6pm
Find out more about Ceyda Oskay (website: ceydaoskay.com, Instagram: ceydaoskayart)
About the art studio in Room to Breathe
The art studio inside our Room to Breathe exhibition is a space curated by visual artist and educator Dima Karout to explore the role of art and creativity in helping people settle into new lives in Britain, and to offer educational art experiences for visitors. Each month, the studio will host a different migrant artist to share their work and process.
View the full schedule of artists in residence and find out more about Room to Breathe