Event listing
Pillow-making workshop with Ceyda Oskay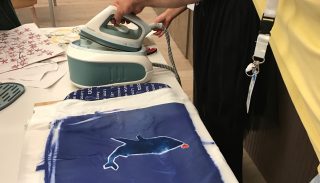 When
Mar 23, 2019 - Mar 23, 2019
Where
Migration Museum at The Workshop,
26 Lambeth High Street,
London, SE1 7AG
Summary
Join our artist-in-residence Ceyda Oskay for a participatory pillow-making workshop in her studio in our Room to Breathe exhibition.
Participants are invited to make pillows around the theme of travel or migration. They can be inspired from contemporary events, or their own personal lives. They can make pillows for themselves or donate it to a shelter through the artist and the Migration Museum.
Participants will learn a special transfer technique, whereby participants paint on a sheet of paper and the images are transferred to the fabric using a heat/iron process. The workshop will also include a presentation on different printing techniques on fabric, and also how heat techniques are used in the fashion world through examples of designer clothes and textiles.
The cost of the workshop is £16 per participant. All materials will be provided. Spaces are limited, so please book early to avoid disappointment.
Click here to book your place via Eventbrite
About the artist
Ceyda Oskay studied at the University of Chicago, METU University, School of the Art Institute of Chicago, and is currently at the Royal College of Art. She worked on humanitarian and development work for the United Nations for Syria, Turkey, Iraq, Eastern Europe and Central Asia, for over ten years and is currently a consultant in the field. She has visited 24 countries, and studied, worked and exhibited in places including Iceland, Greece, Kuwait, Turkey, USA, UAE and the UK, most recently at the Liverpool Independents Biennial. She has also co-authored an upcoming publication on nomadic Sadu weaving in the Arabian Peninsula.
Find out more about Ceyda Oskay (website: ceydaoskay.com, Instagram: ceydaoskayart)
About Room to Breathe:
Room to Breathe is an immersive exhibition at the Migration Museum inviting visitors to discover stories from generations of new arrivals to Britain. Journey through a series of rooms in which the struggles, joys, creativity and resilience of living in a new land are brought to life through audio, films, photographs and personal objects. The art studio within the exhibition will serve as a setting for a series of residencies by migrant artists. For more information, visit the Room to Breathe exhibition page.
About the art studio in Room to Breathe
The art studio inside our Room to Breathe exhibition is a space curated by visual art and educator Dima Karout to explore the role of art and creativity in helping people settle into new lives in Britain, and to offer educational art experiences for visitors. Each month, the studio will host a different migrant artist to share their work and process.
View the full schedule of artists in residence and find out more about Room to Breathe