Event listing
Film screening of "Child Migrants Welcome?" and panel discussion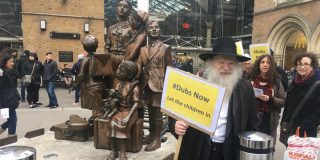 When
Mar 21, 2019 - Mar 21, 2019
Where
Migration Museum at The Workshop,
26 Lambeth High Street,
London, SE1 7AG
Summary
Thursday 21 March 2019 | 6.30pm–9pm
Migration Museum at The Workshop
26 Lambeth High Street, London, SE1 7AG
Tickets: £8 – click here to book (For concessions, please email andrew@migrationmuseum.org)
Come to the screening of a series of short films about the welcome and non-welcome experienced by young people who have migrated to the UK – from Syrian children on the Isle of Bute in Scotland, to Iraqi Kurdish youth in Norwich, to Eritreans in Harrow and Polish children in Sidmouth ("I really don't understand scones!").
Hear from friends, teachers, lawyers, religious leaders, activists and therapists – as well as from the young people themselves – about the challenges faced, and often overcome. Learn about those who are campaigning for legal and safe routes to the UK of unaccompanied children in Europe as well as the implications of Brexit.
The films will be followed by a discussion led by a panel of speakers featured in the films, including: Gulwali Passarlay, author of The Lightless Sky, a book about his journey as un unaccompanied minor from Afghanistan; Sue Skipper, Chair of Norwich International Youth Project; Pat Till, a teacher of Syrian children on the Isle of Bute; and Barbara Winton, refugee rights campaigner and daughter and biographer of the late Sir Nicholas Winton, who organised the Czech and Slovak Kindertransport before the outbreak of the Second World War.
The films have been produced by Eithne Nightingale and Mitchell Harris from the award-winning Child Migrant Stories.
Tickets cost £8 (to which Eventbrite will add £0.97 commission) – click here to book
For £5 concessionary tickets (for students, over-65s, disabled adults, adults on benefits, and refugees and asylum seekers), please contact Andrew Steeds on andrew@migrationmuseum.org