Event listing
Drop-in sessions with artist-in-residence Ceyda (Jayda) Oskay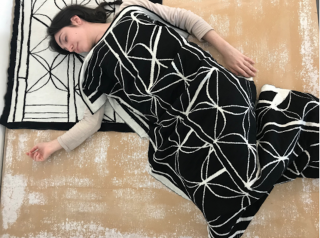 When
Mar 17, 2019 - Apr 14, 2019
Where
Migration Museum at The Workshop,
26 Lambeth High Street,
London, SE1 7AG
Summary
Every Sunday from 3 March until 31 March 2019 | 3pm–4pm
Migration Museum at the Workshop
26 Lambeth High Street, London, SE1 7AG
Free – no need to book
Ceyda Oskay, our latest artist-in-residence, will be in her studio in our Room to Breathe exhibition between 3pm and 4pm every Sunday during her residency, when you can stop by to chat with her, and make wire-prints of home on a traditional press.
At the moment, she is working on making sleepwear from images her friends give her of places for a piece about dreams, places, and sleepwear. She would love to talk to you about places that provide calm and inspiration to you, places of home, utopias – and dreams.
Additionally, she is interested in dreams and sleep experienced during wartime or periods of conflict, as dreams then can be very vivid. She is also interested in the idea of sleep and migration  – do we indirectly travel to places we miss in dreams? – and also in the idea of utopias and dystopias, and how these ideas are often intertwined: for example, in the sense of migrating to a new place that is supposed to be a utopia, or a place you are leaving behind becoming a nostalgic utopia or a temporary dystopia due to war and conflict. She is also interested in islands being utopian places, but also often sites of war, detention etc.
During Ceyda's open studio, participants will have access to paper, wire and a printmaking press where they can make wire line drawings of what reminds them of home, and create embossments (raised prints) from them. These will be exhibited in her studio alongside her artwork, during the time of her residency.
On Sunday 17 March, Ceyda will be running a special free workshop, Clothes Re-configured, during her drop-in session.
Sometimes, we associate certain clothes with particular places – and when we move, the clothing item becomes irrelevant to the new place. This could be because we don't culturally feel comfortable wearing the item in the new place, because of fashion trends, or because of something practical like the weather. Other times, the clothing item may have belonged to someone else who has gifted it to us, or passed away. Sometimes, it may have been a uniform that we no longer use – like a soldier's uniform. In this workshop, we will discuss these items, and examine them to re-create or re-appropriate them in new ways, including taking them apart, stamping, printing, sewing, lettering. Participants may bring more than one item of clothing and are invited to come and discuss these items of clothing, and cut and sew and explore together.
Ceyda is also running a number of other art education workshops during her residency:
Pillow-making workshop, Saturday 23 March 2019, 2pm–5.30pm, £16
Family T-shirt making workshop, Saturday 30 March 2019, 2pm–4pm, £10 combined ticket for one adult and one child
About the artist
Ceyda Oskay studied at the University of Chicago, METU University, School of the Art Institute of Chicago, and is currently at the Royal College of Art. She worked on humanitarian and development work for the United Nations for Syria, Turkey, Iraq, Eastern Europe and Central Asia, for over ten years and is currently a consultant in the field. She has visited 24 countries, and studied, worked and exhibited in places including Iceland, Greece, Kuwait, Turkey, USA, UAE and the UK, most recently at the Liverpool Independents Biennial. She has also co-authored an upcoming publication on nomadic Sadu weaving in the Arabian Peninsula.
Find out more about Ceyda Oskay (website: ceydaoskay.com, Instagram: ceydaoskayart)
About Room to Breathe:
Room to Breathe is an immersive exhibition at the Migration Museum inviting visitors to discover stories from generations of new arrivals to Britain. Journey through a series of rooms in which the struggles, joys, creativity and resilience of living in a new land are brought to life through audio, films, photographs and personal objects. The art studio within the exhibition will serve as a setting for a series of residencies by migrant artists. For more information, visit the Room to Breathe exhibition page.
About the art studio in Room to Breathe
The art studio inside our Room to Breathe exhibition is a space curated by visual art and educator Dima Karout to explore the role of art and creativity in helping people settle into new lives in Britain, and to offer educational art experiences for visitors. Each month, the studio will host a different migrant artist to share their work and process.
Find out more about Ceyda Oskay's residency as part of Room to Breathe
Find out more about our artist-in-residence programme as part of Room to Breathe
Find out more about Room to Breathe