Event listing
"The Road: A Story of Life and Death": film screening and Q&A with director Marc Isaac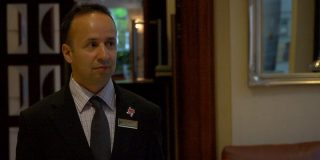 When
Mar 14, 2019 - Mar 14, 2019
Where
Migration Museum at The Workshop,
26 Lambeth High Street,
London, SE1 7AG
Summary
Thursday 14 March 2019 | 6.30pm–9pm
Migration Museum at The Workshop
26 Lambeth High Street, London, SE1 7AG
Tickets: £8 – click here to book (For concessions, please email andrew@migrationmuseum.org)
The A5 is an iconic road in the British imagination, running from the port of Holyhead on Anglesey to Marble Arch in central London and building on an old Anglo-Saxon road called Watling Street, itself based on one of the main Roman roads.
Marc Isaac's 2012 documentary film The Road: A Story of Life and Death uses this road as the focus for an exploration of the lives of a number of people who have come to Britain to make a new life for themselves. The stories told include those of a young Irish woman who dreams of becoming a singer but for now makes her living working in a pub in Cricklewood, an elderly Jewish woman who fled Vienna with the arrival of the Nazis, a hotel worker from Kashmir desperately trying to earn enough money to bring his wife to the UK, and many others.
The film is a study of immigration that is immensely powerful without being polemical, and one that combines humour with pathos. When it emerged in 2012/13, Anthony Quinn in the Independent called it 'a fresco of contemporary London life as lived – or endured – by a handful of immigrants' and Guardian reviewer Mike McCahill deemed it 'a subtly pointed, humorous and, above all, humane contribution to the immigration debate'.
Marc Isaac, the film's director, will be attending the screening and taking part in a Q&A session after the film.
Tickets cost £8 (to which Eventbrite will add £0.97 commission) – click here to book.
For £5 concessionary tickets (for students, over-65s, disabled adults, adults on benefits, and refugees and asylum seekers), please contact Andrew Steeds on andrew@migrationmuseum.org