Migrants Mean Business with George Alagiah – podcast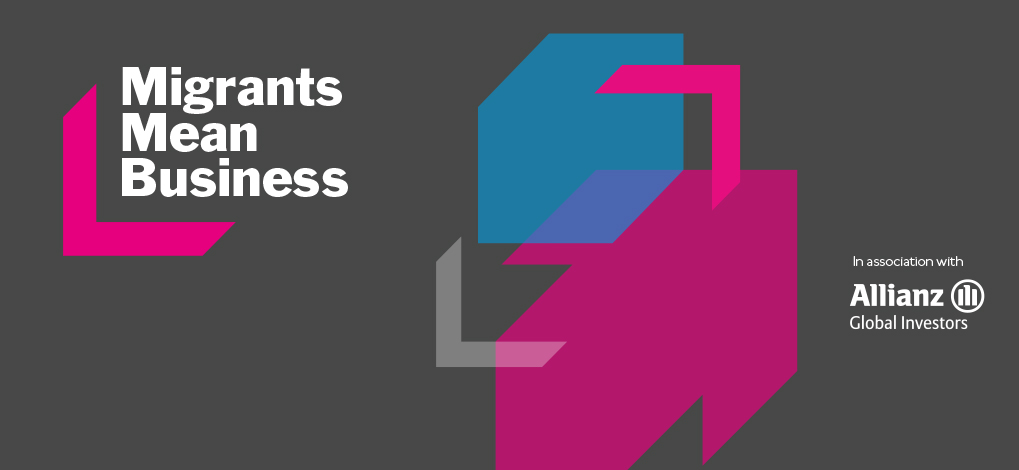 Migrants Mean Business with George Alagiah is a new podcast series from the Migration Museum, in association with Allianz Global Investors, featuring conversations with some of Britain's most successful business leaders – all of whom have immigrant backgrounds.
Presented by broadcaster and author George Alagiah, each episode explores the personal and professional stories of some of Britain's most prominent business leaders, offering insights into how they built their businesses, challenges and achievements, and how their backgrounds have influenced their lives and careers. These conversations, and the series as a whole, also serve to highlight the important contributions of migrants to all aspects of British life – a story which, now more than ever, needs to be told.
See below for a list of episodes – you can listen via the embedded player or by subscribing to this podcast on Apple Podcasts, Spotify, Acast, Stitcher – or wherever you get your podcasts by searching for 'Migrants Mean Business'.
Episode 1: Sir Stelios Haji-Ioannou
To kick off our Migrants Mean Business series, we've got a cracking conversation with one of the most charismatic and recognisable business leaders of the past few decades – Sir Stelios Haji-Ioannou. His conversation with Daniel Franklin, executive and diplomatic editor of The Economist, ranges from shipping to dog walking, suing Netflix to going head to head with Ryanair's Michael O'Leary.
Episode 2: Sir Lloyd Dorfman
A conversation between George Alagiah and entrepreneur and philanthropist Sir Lloyd Dorfman CBE. Lloyd founded Travelex at the age of 24 from one small shop in London and grew it to become the world's largest foreign exchange specialist. Lloyd and George's wide-ranging conversation, recorded live in London on 1 July, explores Lloyd's business and philanthropic career, his family roots and Jewish identity, the essence of entrepreneurialism and whether one ever stops being a 'migrant'.
Episode 3: Karen Blackett OBE

When Karen Blackett was growing up in Reading, aka mini Barbados, her dad told her that, as a black female, she'd have to work twice as hard to make it to the top. Karen is now UK Country Manager for WPP, the world's largest marketing services group, and Chairwoman of MediaCom, the largest media agency in the UK, was appointed Race Equality Business Champion by the Prime Minister in 2018, and regularly ranks among Britain's most influential business leaders. Karen is in conversation with David Abraham, Founder and CEO of Wonderhood Studios, and former chief executive of Channel 4.