Heart of the Nation: Migration and the Making of the NHS – new digital exhibition launches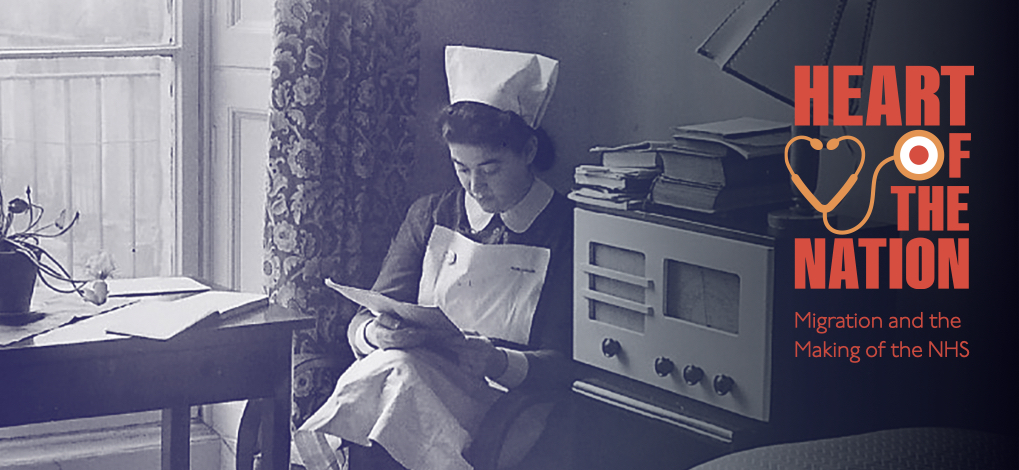 Heart of the Nation: Migration and the Making of the NHS
A new digital exhibition by the Migration Museum
Explore the exhibition at: heartofthenation.migrationmuseum.org
We are thrilled to launch our new digital exhibition Heart of the Nation: Migration and the Making of the NHS.
Heart of the Nation shines a light on the stories and experiences of people who have come to Britain to work in the National Health Service (NHS) over the past 72 years.
The NHS is close to all of our hearts – now more than ever. From the very beginning, people have come to Britain from all over the world to make this grand vision for a better society a reality. The NHS would not have become the beloved institution it is today without its international workers. But their crucial role has largely been ignored.
Heart of the Nation: Migration and the Making of the NHS puts this vital story at centre stage through dozens of oral histories from NHS workers from all over the world, archival materials, as well as art, animations and data visualisations. Now, more than ever, it's a story that needs to be told.
This is the story of the NHS. This is the story of Britain.
We've been hard at work over the past few months gathering stories, artworks, archival materials and contributions and working with our fabulous developers Eight Arms on this exhibition. We hope that it delivers a similar interactive, story-led, immersive feel that you have come to expect from our physical exhibitions – we can't wait for you to experience it!
Let us know what you think – and, if you like it, please help us to spread the word about Heart of the Nation by sharing the link and promoting via your networks and on social media using the hashtag #HeartoftheNation.