Family History Day with the Migration Museum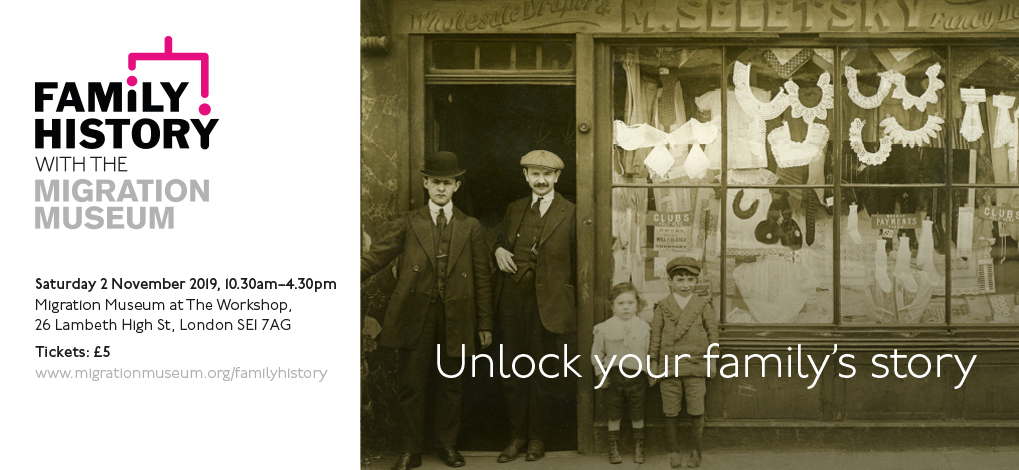 Want to know more about your family's history but don't know where to look?
The Migration Museum's Family History Day offers an accessible way for audiences of all ages to explore their family story – whether you're brand new to family history, or have simply hit a roadblock in your research.
Visitors will have the chance to find out more about genealogy and archival research, experience interactive installations on British history, hear from experts and social historians, and explore their own history at a series of stalls and workshops – leaving inspired and empowered to continue their research independently.
A selection of activities taking place include:
– "Ask-the-expert" photograph dating with The National Trust
– Family history workshops with London Metropolitan Archives
–  Expert talks from a range of speakers including Professor Turi King, who led the DNA testing of King Richard III in Leicester; Roger Kershaw, Migration Records Specialist at The National Archives; and best-selling author and journalist Robert Winder.
– An installation illuminating the history of black Britons with the Black Cultural Archives
– The opportunity to share your family's migration story with the Migration Museum
Tickets cost £5, including admission to all talks and workshops as well as an opportunity to visit the Migration Museum's Room to Breathe exhibition.
Click here to book – opens in Eventbrite
The Migration Museum is delivering this event with a range of partners and organisations who will be sharing their expertise with visitors on the day, including National Trust, London Metropolitan Archives and The National Archives. Other participants on the day include Black Cultural Archives, British Association for Local History and Jewish Geneaological Society of Great Britain.