Family History Day with the Migration Museum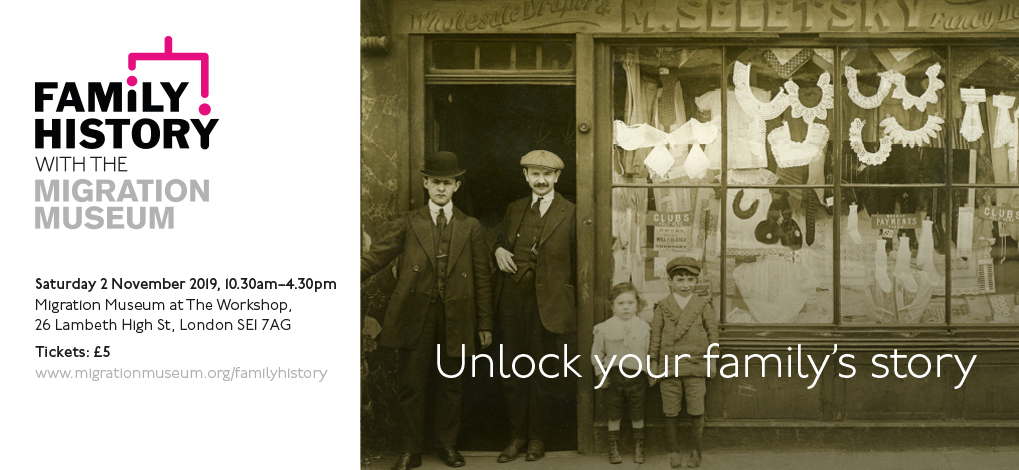 Want to know more about your family's history but don't know where to look?
The Migration Museum's Family History Day offers an accessible way for audiences of all ages and backgrounds to unlock and explore their family story – whether you're brand new to family history, or have become stuck with your research and don't know where to turn next.
Visitors will have the chance to find out more about genealogy and archival research, experience interactive installations on British history, hear from experts and social historians, and explore their own history at a series of stalls and workshops – leaving inspired and empowered to continue their research independently.
A selection of activities taking place include:
–  Talks from a range of celebrities and experts, including Robert Rinder, TV presenter and star of a popular recent episode of Who do you think you are?; Roger Kershaw of The National Archives; and author Robert Winder.
– "Ask-the-expert" photograph dating with National Trust
– Find out about researching family histories from London Metropolitan Archives and local history groups and organisations
– An installation illuminating the history of black Britons with the Black Cultural Archives
– Find out about the colonial legacies and migration heritage of Britain's stately homes with Dr Corinne Fowler of the National Trust – We regret to announce Dr Fowler is no longer able to join us due to unforeseen circumstances.
– Search for relatives who served during WWI and WWII with the Commonwealth War Graves Commission
– Expert advice on specialist family research from the Jewish Genealogical Society of Great Britain and more
– Interactive artworks and installations, including a 10-foot migration stories 'flotilla'
– Food and drinks from refugee and local social enterprises
Tickets cost £5, including admission to all talks and workshops as well as an opportunity to visit the Migration Museum's Room to Breathe exhibition.
Click here to book – opens in Eventbrite
The Migration Museum is delivering this event with a range of partners and organisations who will be sharing their expertise with visitors on the day, including National Trust, London Metropolitan Archives and The National Archives. Other participants on the day include Black Cultural Archives, Society of Genealogists, Jewish Genealogical Society of Great Britain, Commonwealth War Graves Commission, British Association for Local History, East of London History Society, Surrey Heritage, Bermondsey and Rotherhithe Local History, Family Tree and more.

Talks & Workshops include: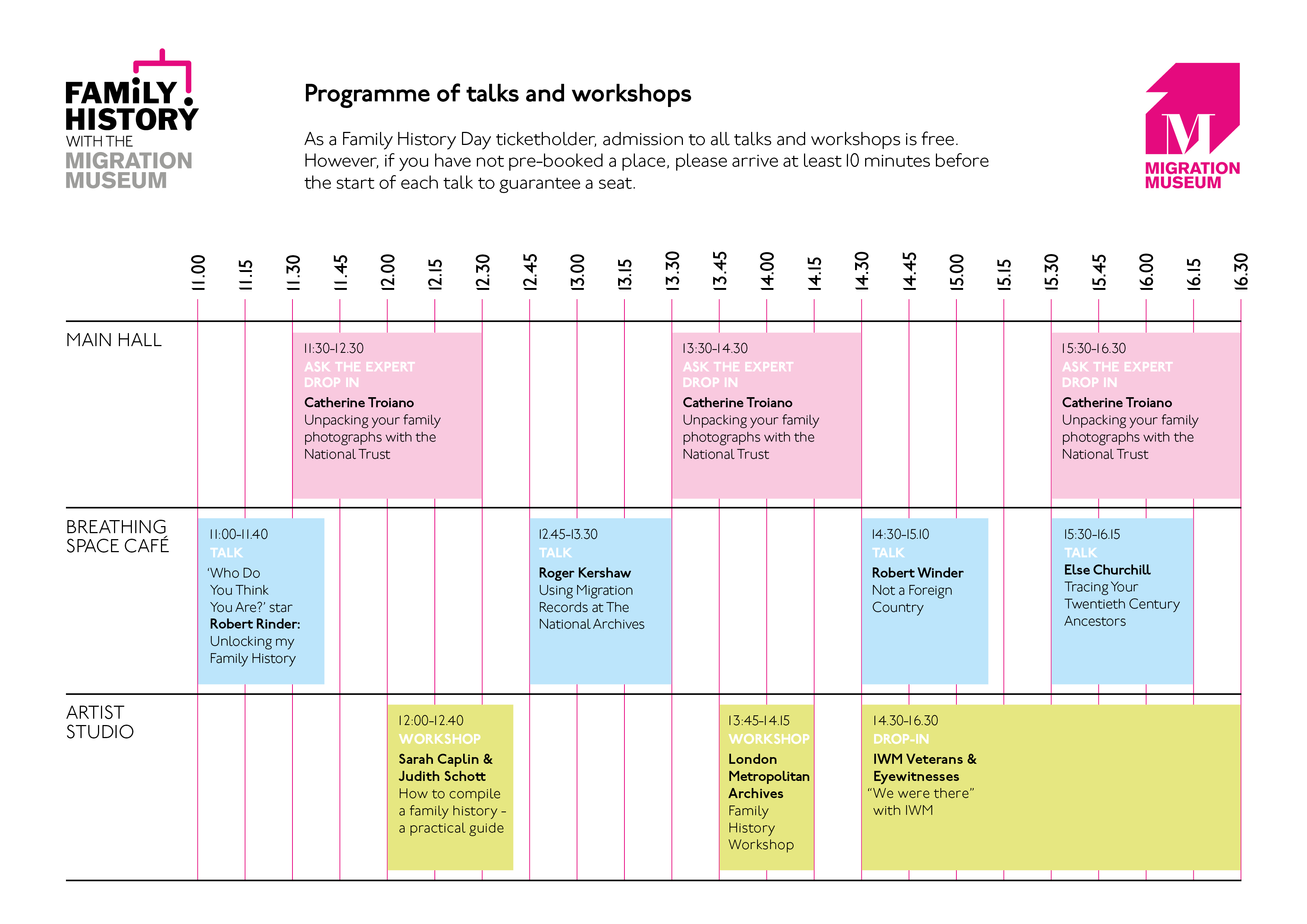 Unlocking my family's history with Robert Rinder
TV presenter Robert Rinder went on a life-changing experience when he took part in BBC One's 'Who Do You Think You Are?'. Robert's emotional journey saw him follow the story of his grandfather, a Holocaust survivor, as well as investigating the dark mystery surrounding his great-grandfather. The episode was watched by 8 million people and was the highest-rated episode of the whole series. In this talk Robert speaks on his experience tracing his family history on the BAFTA award winning show, the importance of understanding our past, and the impact the momentous journey had on him.
Using Migration Records at The National Archives with Roger Kershaw, The National Archives
Using examples of records held at the National Archives, Roger Kershaw, its Migration Records Specialist, will explain the key collections in its custody relating to both immigrants and emigrants and explain how they can be searched and interpreted. These include passenger lists, passports, registration and naturalisation records. His talk will feature some case studies.
Not a Foreign Country with Robert Winder
Far from being dead and buried, the past is always with us, pressing into the present in persistent and unexpected ways. So family histories are more than mere inquiries into private life – they are a rich part of the national heritage too. In this talk Robert Winder, author of the best-selling book Bloody Foreigners, explores the wider historical context of our nation as a backdrop to our personal family history journeys.

Tracing your 20th Century Ancestors with Else Churchill, Society of Genealogists
It feels like it should be easier to find ancestors living in the 20th century than those living in the 19th, but sometimes, it can be harder to research after 1911. Many records are still closed while others offer challenges when we try to search for our family names particularly as there will be no census for English and Welsh genealogy in 1931 or 1941. Hence in this talk Else Churchill looks at distinct features of 20th Century Life and the sources and techniques genealogists might use to supplement this gap such as divorce, the 1939 Register, local directories, electoral records, migration, social media and the internet.
Family History Workshop with the London Metropolitan Archives
An introduction to London Metropolitan Archives (LMA) and the documents, events and introductory training courses we offer which can help you in your family history research. Hosted by Maureen Roberts, Senior Engagement & Learning Officer and Claire Titley, Information Officer fo the LMA.
How to compile a family history – a practical guide with Sarah Caplin & Judith Schott
Judith Schott and Sarah Caplin in conversation on the more practical aspects of compiling a family history, from their own personal experience. The two speak candidly on the impact on the individuals who are telling their stories – and the challenges of writing up histories when the key subjects are no longer alive.
Ask-the-expert photograph dating with Catherine Troiano, The National Trust
We all have family photographs that we can't quite place. Bring along your family photographs and discuss styles, materials and dates with the National Trust's photography curator Catherine Troiano. Learn about how your pictures fit into photography's wider history and find out what to look for.
"We were there" with IWM
This is a unique chance for visitors to meet veterans and eyewitnesses from the Second World War, hearing their personal stories, asking questions and connecting through conversations. Through personal stories and conversation visitors have a chance to get to know the people who lived through conflict in the London area. Hear from eyewitnesses and gain insights into their experiences, perhaps sharing your own too.