We're hiring: Digital Content Manager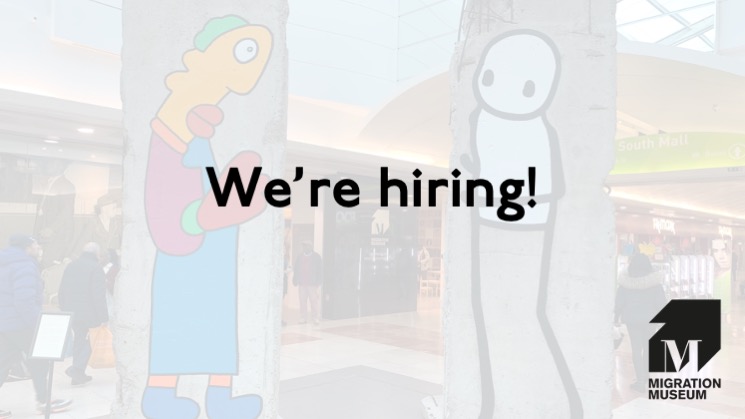 Please note that applications for this role are now closed
The Migration Museum is seeking a Digital Content Manager to manage day-to-day digital output across our channels, platforms and campaigns and to work with our Head of Public Engagement and Head of Communications to help us continue integrating digital into the heart of our future outputs and activities.
2020 has been an unprecedented year for all of us. However, despite many challenges, the Migration Museum has managed to drastically increase our digital presence, growing our social media following significantly and expanding into new platforms and formats including exhibition mini-sites and online events and podcasts.
We have had the opportunity to invest in our digital resource, consolidate our 3-year digital strategy and develop dynamic digital content to mirror our physical outputs. We are now seeking to expand our digital capacity in order to deliver a series of exciting digital projects and public engagement campaigns over the next year.
This is an opportunity to join a small but highly skilled and motivated team working towards an ambitious goal.
The successful candidate will have experience of developing digital creative content and implementing digital campaigns. They will be extremely well-organised and comfortable with carrying out administrative as well as creative tasks, have strong editorial judgment and attention to detail, and be self-directed and thrive in a fast-paced work environment. The position will also require working closely with all other members of staff on marketing, communications, programming and publishing content.
Please click here to view the full job description
To apply for this position, please e-mail a copy of your CV and a covering letter of no more than 500 words along with how you heard about the role to our director, Sophie Henderson: sophie@migrationmuseum.org
Please also complete our Equal Opportunities Monitoring Form and return it separately to info@migrationmuseum.org with the subject title: 'Digital Content Manager Equal Opportunities Monitoring Form'. These monitoring forms will be stored and assessed separately and will not be linked to your application.
The deadline for applications is 23:59 on Sunday 10 January 2021
Shortlisted applicants will be invited to interview in the week commencing 18 January 2021 and asked to complete a brief content creation, writing and editing test in advance of their scheduled interview time.
If you have any questions about the role, please contact info@migrationmuseum.org.