We're hiring: Development Manager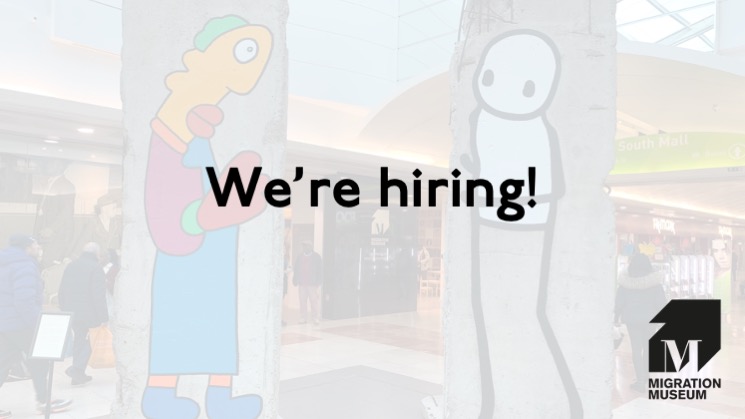 PLEASE NOTE: APPLICATIONS FOR THIS ROLE HAVE NOW CLOSED AND THE POST HAS BEEN FILLED
Application deadline: Sunday 4 July 2021
The Migration Museum is seeking a Development Manager to help us boost our fundraising capacity through maximising income from Trusts and other donors and delivering an effective Customer Relationship Management system and strategy.

Although the pandemic enforced the museum's closure for most of the past year, we were nevertheless positive and productive in terms of creative development, partnership building and demonstrating the relevance of our work. We now have an unprecedented opportunity to demonstrate the potential of the Migration Museum both through our physical presence in a large retail unit in Lewisham Shopping Centre throughout 2021 and 2022 (when Lewisham will be London Borough of Culture) and by means of exciting digital and national creative public engagement projects with the potential to reach millions of people. We need to increase our annual income so that we can continue to grow and develop the partnerships that will enable us to deliver the permanent Migration Museum in the next 3-5 years.

The Development Manager will be an integral member of our small, highly collaborative team, working closely with the Head of Development and Head of Communications. This role will involve researching and identifying funding opportunities, writing funding applications, narrative and financial reports, stewarding donor relationships and assisting with conceiving and delivering cultivation events and campaigns. The role will also entail implementing strategic communications to ensure that the museum's supporters and potential supporters are fully aware of the museum's outputs and achievements, and of the many ways in which they can provide support through funding, collaboration or amplifying our message.
The successful candidate will have demonstrable experience of and enthusiasm for fundraising in a relevant setting. They will have exceptional written communication, presentation and interpersonal skills, be confident producing and interpreting financial information, self-directed and with attention to detail. They will be extremely well-organised and comfortable with carrying out administrative as well as strategic work.
The position will also require working closely with all other members of staff on communications, project design, donor reporting and public engagement.
Please click here to view the full job description
To apply for this position, please e-mail a copy of your CV and a covering letter of no more than 500 words along with how you heard about the role to Head of Development, Georgina Lewis: georgina@migrationmuseum.org
Please also complete and submit our Equal Opportunities Monitoring Form. These monitoring forms will be stored and assessed separately and will not be linked to your application.
The deadline for applications is 23:59 on Sunday 4 July 2021
Shortlisted applicants will be invited to interview in the week commencing 12 July and asked to complete a short task.
If you have any questions about the role, please contact info@migrationmuseum.org.