Event listing
Heart of the Nation: Migration and the Making of the NHS – at Leicester Museum & Art Gallery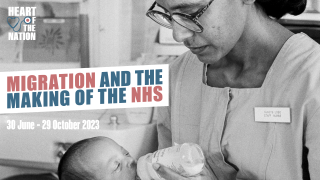 When
Jun 30, 2023 - Oct 29, 2023
Where
Leicester Museum & Art Gallery,
Leicester Museum & Art Gallery, 53 New Walk,
Leicester,
Leicestershire LE1 7EA
Summary
30 June – 29 October 2023
Leicester Museum & Art Gallery 
Monday to Friday: 11am – 4.30pm
Saturday and Sunday: 11am – 5pm
Free admission – no booking
The National Health Service was created 75 years ago. Over the decades, it has faced huge pressures – never more so than today.
Yet the NHS and the millions of people who sustain it remain close to all our hearts. From the very beginning, people have come to Britain from all over the world to make this grand vision for a better society a reality. But their vital role has largely been ignored.
This new national touring exhibition from the Migration Museum shines a light on the stories and experiences of people who have come to Britain to work in the NHS through photography, film, oral histories and an immersive experience that brings together singing and storytelling. 
The exhibition is at Leicester Museum & Art Gallery until 29 October 2023.
Visit the Leicester Museum & Art Gallery website to find out more and plan your visit
Accompanying events and workshops
We are staging a series of events accompanying the exhibition. Upcoming events:
NHS: Beats from Overseas – a Migration Museum takeover of Leicester Museum & Art Gallery
Saturday 30 September 2023
11.30am–4pm
Free – no booking
Heart of the Nation – In Conversation: Dr Annabel Sowemimo and Carol Leeming
Wednesday 11 October 2023
6pm–9pm
Free – book via Eventbrite
You can also explore the exhibition online: www.heartofthenation.co.uk
This is the first leg of a national tour. For more information, please see the Heart of the Nation exhibition page.

Supported by: Arts Council England, Garfield Weston Foundation, Rumi Foundation, Alfred Caplin Charity Settlement, The Dorfman Foundation and Unbound Philanthropy. This work has been made possible by an award from People's Postcode Trust, a grant-giving charity funded entirely by players of People's Postcode Lottery. 
Image © Roy Mehta