Event listing
SPEAK – at Outernet London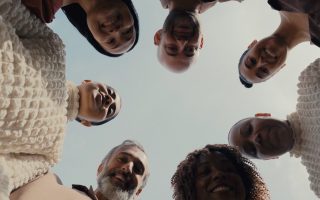 When
Jul 4, 2023 - Jul 9, 2023
Where
Outernet London,
Outernet London, Charing Cross Road,
London,
London WC2H 8LH
Summary
Tuesday 4 July–Sunday 9 July
Outernet London
8am–11.30pm

SPEAK, a new music and film installation commissioned by the Migration Museum exploring the relationship between care and migration to mark the 75th anniversary of Britain's National Health Service (NHS), will be screened at Outernet London during the NHS's 75th anniversary week.
Created by artists Emmanuel Sugo and Kaia Laurielle, SPEAK features the voices and perspectives of seven first- or second-generation migrant NHS workers. Through song and storytelling, these personal experiences form the emotional centre of the installation, exploring how their experience as migrants has informed their work, the challenges and sacrifices they have made, and the rewards they have found. 
SPEAK offers a unique perspective on the complex relationship between care and migration, inviting audiences to question:  who are the people who care for us? And do we care enough about them?
This free installation will make its London premiere on Tuesday 4 July  at the Now Pop One space at Outernet London, an immersive entertainment district located in the heart of the West End, and will be on display throughout the NHS 75th anniversary week as part of NHS 75: Passages on Migration and Care, an exhibition bringing together projects relating to migration and care within the NHS.
SPEAK also forms the centre-piece of the Migration Museum's new national touring exhibition Heart of the Nation: Migration and the Making of the NHS, opening at Leicester Museum & Art Gallery on 30 June 2023.
Credits
Directed and Produced by Emmanuel Sugo
Co-Director: Kaia Laurielle
Cinematographer: Adenike Oke
Editor: Juanita Apanari
Music Director : Kaia Laureille
Score and Sound Design: Aron Kyne
Composers: Kaia Laureille, Aron Kyne
NHS Performers and Storytellers
Adil Akram
Andrew Meyerson
Jessica Cruz-Hutchings
Lisbeth Cyriac
Neena Jha
Nicola Turner
Yaneise Ramos
Production Crew
1st Assistant Camera: Sam Hotson
2nd  Assistant Camera: Teddy Udsholt-Clayton
1st Assistant Director: Jolade Olunsanya
Grip: Josh Harrison
Gaffer: Tupac Carroll
Spark: Dylan Schultz-Soo
Head of Costume: Delores Oblitey
Costume Assistant: Renata Hoga
Hair: Rhonda Oblitey
Makeup: Adwoa Busia
Production Manager: Wofai JE
Production Coordinator: Kassandra Gordon
Post-house: Indetail Studios
Post-producer: Michael Adeyeye
Colourist: Charles Rare
Artistic Director: Aditi Anand
Special thanks
Sophie Henderson
Migration Museum
Chavez Shillingford
Thao Nguyen
NHS
Blundell Street Studios
Supported by
Garfield Weston, Arts Council England

Image: A still from SPEAK, directed and produced by Emmanuel Sugo and co-directed by Kaia Laurielle. Commissioned by the Migration Museum