Event listing
Climate Refugees: Artistic Responses – Ashes to Ashes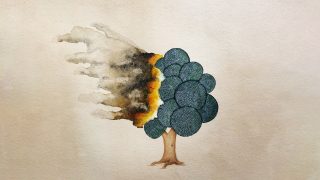 When
Jul 20, 2023 - Oct 25, 2023
Where
Migration Museum,
Migration Museum, Lewisham Shopping Centre,
London,
London SE13 7HB
Summary
20 July – 25 October 2023
Admission free – no booking

The Migration Museum presents two artistic responses to the climate migration emergency:

Ashes to Ashes
Maya Ramsay and Shorsh Saleh

Ashes to Ashes focuses on the current and predicted impact of the climate emergency on migration. 
Coming from the Middle East and with many family members living there, we are acutely aware of the incredible difficulties faced by people currently living with extreme temperatures, frequent sandstorms, desertification and crop failure.
Today just 1% of the planet is considered too hot and dry for civilisation. But, by 2070, researchers predict that 19% of the planet – home to 3 billion people – may be uninhabitable (1). And if current warming trends continue, the UN High Commissioner for Refugees estimates that 1.2 billion people will be forced to migrate by 2050, with around 200m people leaving their countries or regions entirely (2).
About the artists
Maya Ramsay is an award-winning artist, curator and writer. For over twenty years her works have focussed on the subjects of the climate emergency, conflict and migrant deaths at sea. She works with historically and politically important sites, employing a variety of processes to capture visual histories that would otherwise be lost or unseen.
Website: mayaramsay.co.uk 
Instagram: @mayaramsayart
Shorsh Saleh is a painter, carpet designer and weaver. Born in Kurdistan, Saleh studied at The Prince's School of Traditional Arts, London, where he has been teaching carpet weaving since 2015. His works focus on migration, borders and identity, employing traditional techniques of miniature painting and carpet making in a contemporary context.
Website: shorshsaleh.com 
Instagram: @shorshart 
1 Lustgarten, Abrahm. Climate Refugees, The Climate Book. Allen Lane, 2022
2 Oki, Taikan. Water Shortage, The Climate Book. Allen Lane, 2022.
Image: Tree of Life (2020), Shorsh Saleh