Event listing
Climate Refugees: Artistic Responses – Common Threads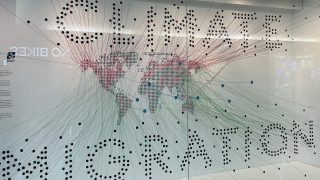 When
Jul 20, 2023 - Oct 25, 2023
Where
Migration Museum,
Migration Museum, Lewisham Shopping Centre,
London,
London SE13 7HB
Summary
20 July – 25 October 2023
Admission free – no booking

The Migration Museum presents two artistic responses to the climate migration emergency.
Common Threads
AWMA (Arberor + Wasim + Mohammed + Abderrahim)
Common Threads  highlights the extensive scope and reality of climate migration, a global phenomena that displaces people from their homes as a result of extreme climate conditions, which have been getting worse as a result of global warming which we all contribute to everyday.
The installation depicts the vast scale and urgency of the crisis, linking the word 'climate' to the regions around the world that have contributed most to the climate crisis, and linking the word 'migration' to the regions that are impacted the most by those contributions. 
It highlights how we have a common thread between how we choose to live our lives and how it affects individuals on the other side of the world, making visible unseen routes, and highlighting the connection and profound impact that global warming has on millions of people worldwide every year.
Through a deeper understanding of the urgency and consequences of climate change, this display aims to evoke empathy and raise awareness about the plight of climate migrants, encouraging all of us to reflect on our own roles in addressing the global climate crisis and to advocate for sustainable solutions that prioritise the well-being of our shared planet.
About AWMA
We are a Brixton-based design and architecture studio made up of founders with migrant heritage. Our diverse backgrounds are the vibrant threads that intricately weave through and inspire our work. They form the foundation of our creative journey. We have a track record of community-based projects in Brixton itself, as well as across the UK and the world.