Event listing
Create and Make: A Heart of the Nation Workshop – at Leicester Museum & Art Gallery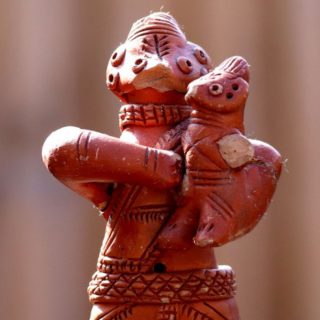 When
Jul 22, 2023 - Jul 22, 2023
Where
Leicester Museum & Art Gallery,
Leicester Museum & Art Gallery, 53 New Walk,
Leicester,
Leicestershire LE1 7EA
Summary
Saturday 22 July 2023
Leicester Museum & Art Gallery
11am–4pm
Free – drop in, no booking

Join artists Ismail Khokon and Shamila Chady for a family friendly 'create and make' workshop at Leicester Museum & Art Gallery inspired by Heart of the Nation, our touring exhibition sharing the stories of people who have migrated to Britain over the past 75 years to work for the NHS.
Make your own Bengali 'Tepa Putul' – a clay pressed doll, or try painting with henna and turmeric to create symbols that represent journeys, wellbeing and care.
Drop in any time between 11am and 4pm – no booking needed. All ages welcome.
This event is produced by An Indian Summer Festival