Event listing
Heart of the Nation – In Conversation: Dr Annabel Sowemimo and Carol Leeming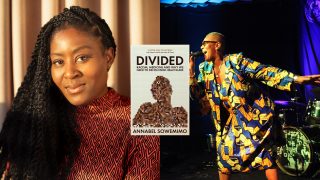 When
Oct 11, 2023 - Oct 11, 2023
Where
Leicester Museum & Art Gallery,
Leicester Museum & Art Gallery, 53 New Walk,
Leicester,
Leicestershire LE1 7EA
Summary
Wednesday 11 October 2023
Leicester Museum & Art Gallery
6pm–9pm
Free – book via Eventbrite
As part of the Migration Museum's Heart of the Nation exhibition at Leicester Museum & Art Gallery, we are delighted to host an evening of conversation exploring the themes of inequalities in medicine, colonial bias within the healthcare system and the need for change.
Doctor, academic, activist, and writer Dr Annabel Sowemimo will be reflecting on her new book, Divided: Racism, Medicine, And Why We Need To Decolonise Healthcare, with chair Carol Leeming MBE FRSA, Director and Lead Artist of Dare to Diva company.
6pm – Arrival and private view of Heart of the Nation exhibition
7pm – Event starts
Short introduction from Emily Miller (Director of Learning and Partnerships, Migration Museum
Conversation with Dr Annabel Sowemimo and Carol Leeming MBE FRSA
Audience Q&A
8pm – Drinks reception, networking and an opportunity to purchase Dr Sowemimo's book.
Click here to book your free place (opens in Eventbrite)
About Dr Annabel Sowemimo
Dr Annabel Sowemimo is a Sexual and reproductive health registrar, academic, activist, and writer. She is co-director and founder of charity the Reproductive Justice Initiative (RJI) (formerly Decolonising Contraception), which aims to address health inequalities and racial disparities in healthcare. They have been shortlisted for numerous awards, winning grassroots organisation of the year at the 2020 Sexual Health Awards and a National LGBTQ Health Advisor award in 2022.
Within her specialty, she is interested in tackling gender-based violence and improving access for marginalised groups. As a freelance writer she has written for The Independent, The Guardian and numerous other publications. As well as jointly hosting The Sex Agenda podcast, she is frequently in demand for TV and radio.
Annabel is a part-time PhD candidate and Harold Moody Scholar at King's College London with her research focusing on the experiences of Black British women with fertility control methods.
Annabel firmly believes that healthcare should be about empowering people with knowledge to make informed choices about their bodies. She spends her spare time campaigning on reproductive justice, against NHS cuts and improving healthcare for marginalised groups.
Her first book, Divided: Racism, Medicine and Decolonising Healthcare, has been published by Profile Books/Wellcome Collection in 2023 and was a finalist for the Orwell Prize for Political non-fiction.
About Carol Leeming MBE FRSA
Carol is Director and Lead Artist of Dare to Diva company. Established over 20 years ago, she received the Queen's Honours MBE 2019 as poet, playwright and for her contribution to Leicester's arts and culture scene.
In 2023 Carol was awarded an Arts Council England Developing Your Creative Practice Grant, for an R&D project for music composition for chorus, and music ensemble.
Carol is currently a Visiting Guest Lecturer for both Nottingham Trent University (MA Creative Writing) Derby University (MA Writing for Performance). She is also Patron for East Midlands Women Awards. Carol's interests and areas of expertise include Black History/Heritage, Black Curriculum & Decolonising Education/Arts, Africology, Pan African Futurism and Spirituality.
Image (l-r): Dr Annabel Sowemimo (photo: Tom Trevatt), Divided book cover, Carol Leeming (photo courtesy of Carol Leeming)