Event listing
NHS: Beats from Overseas – a Migration Museum takeover of Leicester Museum & Art Gallery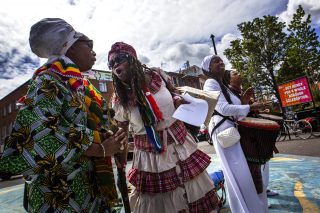 When
Sep 30, 2023 - Sep 30, 2023
Where
Leicester Museum & Art Gallery,
Leicester Museum & Art Gallery, 53 New Walk,
Leicester,
Leicestershire LE1 7EA
Summary
Saturday 30 September 2023
Leicester Museum & Art Gallery
11.30am–4.30pm
Free  – no booking
People who have come to Britain to work for the NHS have not only brought expertise, skill and care – but also sounds, song and dance.
Join the Migration Museum's takeover of Leicester Museum & Art Gallery – drums, melodies, rhythms and beats will fill the space on Saturday 30 September 2023.
This free, drop-in event is part of the Migration Museum's Heart of the Nation exhibition at Leicester Museum & Art Gallery, running until 29 October 2023.
11.30am – 12.10pm
Leicester Comhaltas
Comhaltas is the largest group involved in the preservation and promotion of Irish traditional music. We are delighted to be joined by the Leicester branch who were established in 1979 and will bring the sounds of Ireland to Leicester playing the fiddle, banjo, button accordion and tin whistle. 
12.30pm – 1.10pm
African Caribbean Infusion
Join Michelle Mother Hubbard and Milla Hannah as they play Djembe drums with beats and rhythms of an African Caribbean infusion. Leave feeling uplifted, vibrant and energetic after this interactive performance and participatory experience.
1.30pm – 4.00pm
ZamZam Unlimited
Come meet ZamZam Unlimited and their team as they share the history and traditions of Somalia. Members from their youth group will demonstrate Somali dance, and discuss the intricacies of stage costume and culture. All are invited to try some moves too!
3.30pm – 4.15pm
Manish Bhansali
Join harmonium teacher Manish Bhansali as he shares his passion for this ancient instrument.
About Leicester Comhaltas
Comhaltas Ceoltóirí Éireann* is a worldwide organisation dedicated to fostering the playing and enjoyment of Irish Traditional Music. The Leicester Branch regularly plays host to major events in the Irish traditional music calendar. In Britain, branches are divided into four regions – London, Midland, Northern and Scottish – all coming under Comhaltas na Breataine.
* The approximate pronunciation is 'coal-tas kyol-tory air-an'.
About Michelle Mother Hubbard and Milla Hanna
Michelle Mother Hubbard is a poet, performer, african drummer, workshop facilitator, storyteller, writer, nature lover, photographer, gardener, bird watcher, maker and artist. 
Milla Hanna is a teacher, performer and composer. Over the last 20 years Milla has taken the Djembe drum to schools, universities, orchestras, communities, festivals and corporate events.

About ZamZam Unlimited
ZamZam Unlimited Possibilities CIC is a youth and community development organisation that provides 6 months of bespoke youth leadership training aimed at equipping young people aged 14-18 with the skills, knowledge, and tools they need to succeed outside the classroom. They also offer cross-cultural educational workshops for businesses, VCSEs, community organisations, and educational institutions aimed at diminishing stereotypes and strengthening community cohesion.
About Manish Bhansali
Manish Bhansali has been teaching the Harmonium for the last 6 years, but has been a dedicated player for 20 years. He is now looking to share his passion of the ancient instrument with music lovers globally.
Main image: Windrush 75: Legacies Festival at the Migration Museum in Lewisham, south-east London, in June 2023 (Photo: Migration Museum/Elzbieta Piekacz)