Event listing
Migrateful – Afghan cookery class with Habib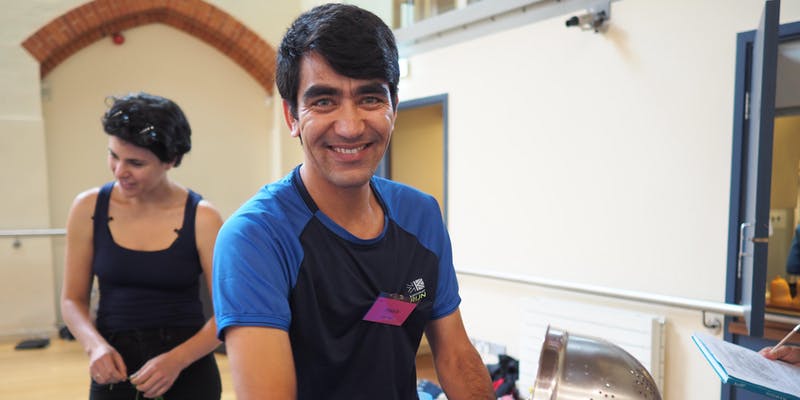 When
Nov 21, 2018 - Nov 21, 2018
Where
Migration Museum at The Workshop,
26 Lambeth High Street,
London, SE1 7AG
Summary
Learn to make delicious Afghan dishes with Habib, one of our upcoming artists in residence for our Room to Breathe exhibition. Habib will teach you three of his favourite Afghan dishes followed by a sit-down meal, as part of a cookery class run by Migrateful, in partnership with the Migration Museum.
This is your chance to learn a brand new cuisine, support an amazing cause, and eat great food.
Here's a message from Habib:
"Hello, I am Habib from Herat, Afghanistan. I love Afghan and Persian traditional foods and I always found it very interesting when my elders would talk to me about the different kind of foods for different seasons. When I joined the army in Afghanistan and specially when I was in missions and military operations (far away) in desert or mountains, we didn't have proper food (mostly it was frozen food or ready meals). Then one day I decided to try and cook my favourite fresh dishes and after a few times I managed to cook and I liked it. Then I used to cook for the others as well and they were very happy about that. Then I cooked for my family. My cookery experience was useful and helpful during my journey as well, I used to cook for myself and other refugees in Calais jungle. I love cooking and sharing food with others and I love it when people smile when they eat my food!"
Tickets cost £35 (plus Eventbrite booking fee). This includes the cost of the cookery class, dinner and an optional guided tour of our current exhibitions. Click here to book via Eventbrite.
Habib will be one of our artists in residence for Room to Breathe. More details on this to be announced soon.
About Migrateful
Migrateful is a cookery and language initiative where asylum seekers, refugees and migrants struggling to access employment in the UK due to legal and linguistic barriers, teach their traditional cuisines to the public.
What to expect
During a Migrateful cookery class, you will work within your group to prepare dishes to be served family-style. Some dishes are prepared by the chef and demonstrated to you while some dishes will have you preparing it from beginning to end, while learning our chef's authentic techniques from their home country. Our classes appeal to those interested in learning international recipes, practising a different language and in meeting new people for a cultural exchange in an intimate setting, as well as to those wishing to support migrants and refugees struggling to rebuild their lives.