Event listing
Jali woodworking workshop with Lazo Studios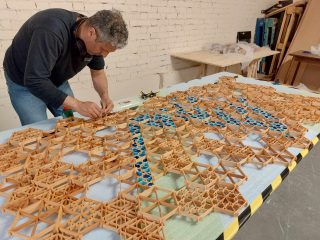 When
Jul 30, 2022 - Jul 30, 2022
Where
Migration Museum,
Migration Museum, Lewisham Shopping Centre,
London, SE13 7HB
Summary
Saturday 30 July 2022
1pm–4pm
£35 – book via Eventbrite
Join Lazo Studios for a woodworking workshop in our Makerspace and learn how to design and construct traditional Jali lattice work.
Incorporated into the traditional architecture of cultures along the old silk route, Jali lattice work often serves both a functional and decorative purpose.
In this workshop, you will learn the basic steps of how one small unit of a Jali panel is designed and constructed using simple hand tools. You will get to make and take home a small Jali trivet.
The duo behind Lazo Studios complement each other in both their training and approach. Naseer Yasna is an artisan trained in the traditional woodwork of Central Asia, while Hedieh Wojgani is a trained architect and artist with a modern appreciation of craft and design. Their work is rooted in the rich heritage of cultures along the Ancient Silk Route and embodies a fusion between the Eastern aesthetic and the Western practicality.
This is a three-hour workshop led by Hedieh and Naseer, with a 15-minute break in the middle. All tools and materials will be provided.
Click here to book (via Eventbrite)
Attendees must be over the age of 16 and have hand skills. Woodworking skills would be an advantage, but are not necessary. Advance booking essential. There is a maximum of 10 places on this workshop, so book early to avoid disappointment.

About Lazo Studios
Lazo Studios is a design and wood-crafting atelier based in south-east London. We draw on our experiences and knowledge of time-honoured practices and craftsmanship to create intricate artworks and artisan woodwork with a modern twist. Our works range from single sculptures to larger interior design elements and bespoke furniture. We call our furniture pieces functional art.
Lazo Studios' work is currently on display as part of our Artist Showcase series, spotlighting work by local artists and designers with migrant heritage in our window display. Find out more here.
Instagram: @lazo_studios
Website: lazostudios.co.uk