Event listing
Artist Showcase: Lazo Studios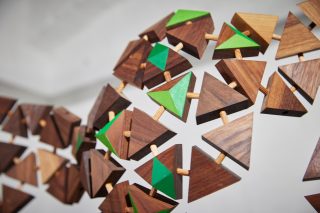 When
Jun 8, 2022 - Sep 14, 2022
Where
Migration Museum,
Migration Museum, Lewisham Shopping Centre,
London, SE13 7HB
Summary
This display is part of our Artist Showcase series, spotlighting work by local artists and designers with migrant heritage in our window display:
Lazo Studios
We are a design and wood-crafting atelier based in south-east London. We draw on our experiences and knowledge of time-honoured practices and craftsmanship to create intricate artworks and artisan woodwork with a modern twist. Our works range from single sculptures to larger interior design elements and bespoke furniture. We call our furniture pieces functional art.
About us:
Naseer Yasna was born in Afghanistan. After the Soviet invasion, his family migrated to Iran, where Naseer grew up and learned the art of woodcarving from an Iraqi Master. In 2005, he returned to Afghanistan to help rebuild the country. After spending over a decade working for a British charity with a focus on restoring traditional crafts, Naseer reluctantly relocated to London at the end of 2016 due to the deterioration of the security situation.
Hedieh Wojgani was born in Iran and raised in Germany. She studied art and architecture in the USA and worked for design firms in Boston, New York, and Berlin before relocating to London to pursue her postgraduate studies. Hedieh worked for various academic institutions as a research associate before moving to Kabul in 2010 to join the same charity Naseer worked for.
Hedieh and Naseer started their close collaboration in Afghanistan and set up Lazo Studios in London in 2017.
Instagram: @lazo_studios
Website: lazostudios.co.uk