Event listing
'I Love Lewisham Because…' – poster workshop with Nadina Ali for Lewisham Borough of Culture Day One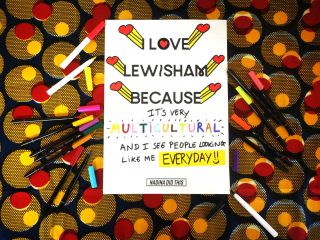 When
Jan 28, 2022 - Jan 28, 2022
Where
Migration Museum,
Migration Museum, Lewisham Shopping Centre,
London, SE13 7HB
Summary
Friday 28 January 2022
11am–2.30pm (drop in anytime)
Free – no need to book
Share your love for Lewisham in poster form with Nadina Ali.
Is it the people? Lewisham market? The Catford cat? Whatever it is, create a poster that summarises your love for Lewisham best so we can celebrate all the reasons why Lewisham is a great place to live.
Nadina Ali is artist in residence for Lewisham London Borough of Culture 2022. This workshop is part of the Day One programme for Lewisham London Borough of Culture.
We are also featuring an installation by Nadina Ali in our window display as part of our Artist Showcase series spotlighting work by locally based artists.