Event listing
Noras of Lewisham – collage workshop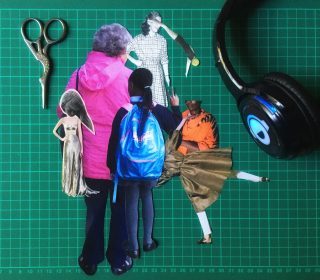 When
Jan 22, 2022 - Jan 22, 2022
Where
Migration Museum,
Migration Museum, Lewisham Shopping Centre,
London, SE13 7HB
Summary
Saturday 22 January 2022
2pm–4pm
Free – open to all, no booking needed
Join artist Belén L.Yáñez and Cristina Villalonga for a free collage workshop as part of the Noras of Lewisham project. The workshop is open to all – no experience needed. All materials are provided.
Noras of Lewisham is a project that honours women's contribution to society and challenges stereotypes. Through workshops, an exhibition and interventions in public spaces, Noras highlights and celebrates the extraordinary in the ordinary lives of diverse women in Lewisham.
This workshop aims to engage discussion about diverse women's social and cultural contributions in the community; encourage people to explore their own creativity; and share the creative process of the Noras project. It is a collage workshop in which collaboratively we will cut and paste ideas to empower the role of women in society. Participants will be guided into a creative process to imagine and design with no bounds.
Noras was born as the result of the artistic collaboration between artist Belén L.Yáñez and architect Cristina Villalonga.
Find out more about the Noras project
@noras_project on Instagram
Noras of Lewisham is part of Lewisham Borough of Culture International Women's Day celebrations and is funded by Lewisham Council and Arts Council England.