Event listing
Artist Showcase: Nadina Ali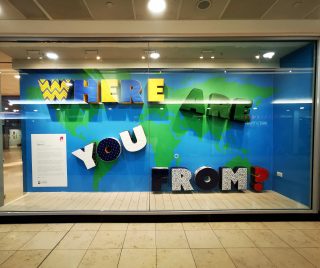 When
Jan 19, 2022 - Feb 27, 2022
Where
Migration Museum,
Migration Museum, Lewisham Shopping Centre,
London, SE13 7HB
Summary
This display is part of our Artist Showcase series, spotlighting work by local artists with migrant heritage in our window display:
Nadina Ali
Where are you from?

If you are not white or have an accent, you have probably been asked this question at least once in your life. If not multiple times.
As a Black immigrant, now living in Lewisham, I am often asked where I am from. I was born and raised in Marseille, south of France, and came to the UK in my early twenties to study. I followed in my parents' footsteps who moved to France in the 1980s from Comoros, (a previous French colony off the coast of East Africa) for a better life.
I find the question difficult to answer. Is my French accent being questioned or my Blackness? I also find it intrusive. Why do some people feel entitled to question my identity and my cultural heritage simply because I look and sound different to them?
I want this installation to turn 'Where are you from?' into a question that is asked to anyone, regardless of the sound of their voice or the colour of their skin. The 3D letters represent the multidimensionality of my identity and a reminder that there is not always a simple answer to the question. Nor is it an excuse for small talk.
What does 'Where are you from?' mean to you? How does it make you feel? Come inside the museum and share your story with us.
Nadina Ali is a Lewisham-based graphic artist from Marseille, with roots in Comoros. She uses bold and colourful typography to create work that focuses on empowerment, social justice, representation and mental health.

Instagram: @nadinadidthis
Website: nadinadidthis.com

Supported by Lewisham's Creative Enterprise Zone and SHAPESLewisham