Event listing
Artist Showcase: Justine Formentelli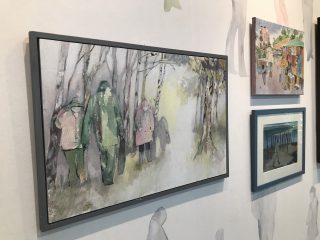 When
Jan 12, 2022 - Feb 27, 2022
Where
Migration Museum,
Migration Museum, Lewisham Shopping Centre,
London, SE13 7HB
Summary
This display is part of our Artist Showcase series, spotlighting work by local artists with migrant heritage in our window display:
Justine Formentelli
Between here and there

Among these figures in transit, some might be fleeing war zones, others may be dreaming of new destinations while some others are going about their daily lives drifting in nostalgia. This choice of subject also reflects my lifelong experience of being a foreigner often pulled between different countries and cultures, never quite belonging to one place.
With the use of collaged fragments, I wanted to hint at the complex and rich stories behind each individual and at the same time portray the longing that often permeates the soul of uprooted people.
French with Italian heritage, I have lived in the Caribbean, the island of Réunion, Morocco, the US and Switzerland. London has become home for the last ten years and I feel very grateful to live in such a diverse and vibrant city.
Some of my recent art explorations and exhibitions have taken me down the streets of Lewisham, where its diverse crowd and exciting cultural spaces have inspired me to expand on this theme of wandering silhouettes.
Supported by Lewisham's Creative Enterprise Zone and SHAPESLewisham